Stryker Hip Lawsuit Filed by MN Couple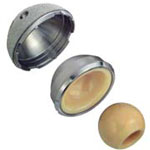 A Minnesota couple, hailing from St. Cloud, have become among the latest plaintiffs to have filed a Stryker Rejuvenate hip replacement lawsuit. The couple filed their lawsuit in Minnesota District Court on the 21st of January, 2013. They are one of many cases that have been filed against Stryker Orthopedics or its subsidiaries by patients who have experienced complications as a result of their allegedly faulty hip replacement system. The device, which has only been on the market for three years, has already been the subject of dozens of complaints filed with the Food and Drug Administration.
Stryker lawsuit claims serious complications
The husband plaintiff involved in the new Stryker lawsuit claims in the suit that he was implanted in January 2010 with the Rejuvenate hip replacement system and soon began experiencing pain and discomfort related to the device. His doctors noted that his device had become loosened, which caused the patient to suffer from infection, fluid collection, and the development of a pseudo tumor. Although the plaintiff underwent revision surgery in November 2012, he continues to suffer mental pain and suffering as well as injuries from the device, the couple's lawsuit claims.
Since the Rejuvenate device went on sale at the end of 2009, many physicians and surgeons have noted corrosion of the metal-on-metal components of the device, which can lead to the release of particles of metals and toxins into the bloodstream of a patent, which can cause pain, swelling, and other complications. Many patients implanted with these devices have had to undergo revision surgery, which adds to both recovery time and medical costs–and revision surgeries can be even more dangerous than initial implant surgeries, since scar tissue and damaged bone may be present at the site of the defective hip implant.
MCL consolidation for some lawsuits
Ten Stryker hip lawsuits have been consolidated in New Jersey's Supreme Court in a move known as multi county litigation consolidation (MCL). Further cases are expected to be added to this consolidation as more and more plaintiffs file suit after experiencing Stryker hip complications. Stryker has already reached settlements with a few plaintiffs, but many still await trial.