Stryker Lawsuits Consolidated in New Jersey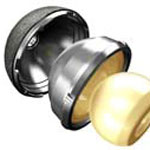 The manufacturers of hip replacement systems that have caused hundreds of patients to suffer complications and undergo revision surgeries have been the subject of a number of lawsuits centered around their products. Stryker's Rejuvenate and ABG II hip replacement systems have been linked to so many serious side effects and complications that lawsuits filed against the company on a federal level have been consolidated in Bergen County Superior Court in New Jersey. Ten plaintiffs seeking Stryker hip compensation petitioned to coordinate lawsuits in September of 2012, and the latest notice to the bar, which was issued on January 24, 2013, appointed Judge Brian R. Martinotti to preside over the multi-county litigation.
Complications related to hip replacement systems
Patients who were implanted with Stryker hip replacement systems sold as the Rejuvenate and ABG II Modular devices sometimes experienced complications associated with the metal-on-metal hip replacement systems. These implant devices are more dangerous than other hip replacement systems because the metal components can rub up against one another, causing particles of metal to flake off into the patient's bloodstream. This can cause a condition known as metallosis, which is a form of metal poisoning, and can cause tissue damage and other complications if the metal makes its way into a patient's bloodstream.
The Food and Drug Administration announced a Stryker hip recall on the 6th of July, 2012, although the device manufacturer maintains that the incidence of complications related to their hip replacement devices is 'extremely low'. The manufacturer advises patients who were implanted with their devices but have not experienced complications to continue to follow post-operative advice given to them by their surgeons.
Plaintiffs seeking compensation
The ten plaintiffs participating in the consolidated litigation case against Stryker are seeking damages for pain and suffering they claim to have experienced. Stryker estimates that it will pay between $190 million and $390 million in Stryker hip settlements related to claims about their Rejuvenate hip replacement system.