Texas Man Alleges Actos Caused His Bladder Cancer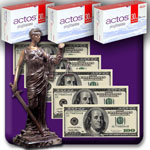 A new lawsuit was filed against the manufacturer of Actos, Takeda Pharmaceuticals, by an Actos lawyer on behalf of Felix Quintanilla. The plaintiff alleges that he is suffering from side effects after taking the type II diabetes medication and that the company failed to warn the public as to risks of the drug including the possibility of developing bladder cancer.
Quintanilla, a resident of Texas, filed his lawsuit on January 17, 2013, in the Circuit Court of Cook County, Illinois.
Plaintiff claims permanent injuries due to Actos
Quintanilla states that he was prescribed Actos (pioglitazone) for maintenance of his type II diabetes. He took the medication unaware of the potential link between Actos and bladder cancer and was subsequently diagnosed with the disease. He claims to have suffered from permanent and severe injuries as a result of the drug and he brings counts of negligence and strict liability against Takeda. He seeks damages for personal and financial losses including disability, lost income, medical expenses, and pain and suffering.
Study indicates link between Actos and bladder cancer
Actos was approved by the Food and Drug Administration (FDA) in July 1999 to treat patients with type II diabetes. It is an insulin-sensitizing agent known as thiazolidinedione (TZD).
Research has indicated that Actos can lead to bladder cancer. The PROactive three-year study, published in 2005, identified a positive link between the drug and the disease as it occurred in a higher percentage of people taking Actos vs. other drugs. This information was not made available to the public.
On September 17, 2010, a Safety Announcement was issued by the FDA to warn the public of the bladder cancer risk with Actos. The FDA then published an updated Safety Announcement in June of 2011 informing consumers that using Actos for over one year may be associated with an increased risk of bladder cancer.
Takeda accused of failing to adequately inform consumers of Actos danger
In his lawsuit, Quintanilla asserts that the defendants withheld their knowledge that Actos can cause bladder cancer. He also says that they did not adequately inform the public and medical professionals of the risks of bladder cancer in patients who used Actos for more than one year. Their inactions, the lawsuit claims, caused injury to the plaintiff. His problems continue to date due to his bladder cancer and other injuries related to his use of the medication.
[SmartLink actoslawsuit]