Texas Woman Files Granuflo Lawsuit After Husband's Death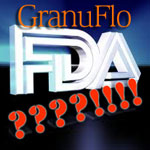 A new Granuflo lawsuit was filed by a Texas woman on January 14, 2013 in the U.S. District Court in Massachusetts. She alleges that the defendants, Fresenius USA—the manufacturers of Granuflo—are responsible for her husband's death two days after he received a hemodialysis treatment using the product. This case is one of many filed across the country after a March 2012 Class I recall of Granuflo and another dialysis product manufactured by Fresenius, Naturalyte.
Plaintiff's husband died after being treated with Granuflo
The plaintiff in the case, Emma Hernandez of Lubbock, Texas, states that her husband, Santos Hernandez, died two days after receiving a dialysis treatment. The treatment took place on January 15, 2011 and her husband returned home having difficulty walking and felt extremely weak. For the rest of that day and the next, he complained of not feeling well.
Early in the morning of the following day—two days after treatment—he expressed to his wife that he had a headache and clutched at his chest. As her husband was spitting white saliva, she called for emergency assistance. Her husband died before the help arrived. He was taken to the hospital and pronounced dead. The cause of death was cardiac arrest.
The plaintiff seeks punitive damages for the loss of her husband and for the emotional distress and physical suffering of her husband before he died.
Fresenius alleged to have been aware of risks of Granuflo
Granuflo and Naturalyte are products containing bicarbonate. This is used during dialysis to clean the bloodstream in a manner that diseased or damaged kidneys cannot. These products, however, can produce too much bicarbonate in the body of the patient and cause side effects such as cardiac arrest. This, as in the case of the plaintiff's husband, can result in Granuflo sudden death.
The plaintiff asserts that Fresenius had known of the risks of Granuflo and Naturalyte since 2003, but chose not to alert medical centers that used these products.
Class I recall implemented for Granuflo and Naturalyte
The Food and Drug Administration (FDA) had informed Fresenius that their warnings regarding the risks of their products were not sufficient, but the company only informed their own doctors and clinics. Dialysis treatment centers that were not under the control of Fresenius were not told. Thousands of dialysis providers who used these products were not informed of the possible side effects patients could suffer when using Granuflo and Naturalyte.
An internal memo was leaked to the FDA months after it was written and sent to Fresenius employees. The agency investigated to see if federal regulations had been violated due to the company's behavior with the warnings.
A Class I recall of Granuflo and Naturalyte was implemented in March of 2012. Class I is the most serious level of recall that can be ordered by the FDA and it means that the particular product has been connected to severe side effects or death.
Fresenius could have provided additional instructions
The company could have given additional instructions to medical professionals to monitor the patients' bicarbonate levels while they were receiving dialysis treatment, but did not choose to do so. The company maintained an active marketing campaign of Granuflo and Naturalyte to medical centers that provided dialysis, thereby leaving more patients in danger of suffering the same fate as Santos Hernandez.