Vaginal Mesh Lawsuit Filed in Minnesota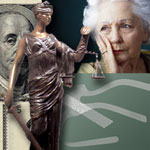 A new lawsuit was filed by a vaginal mesh lawyer on behalf of Barbara McIntosh on January 7, 2013 in the U.S. District Court for the District of Minnesota. The case alleges that the Lynx sling—a transvaginal mesh device manufactured by defendant Boston Scientific Corp.—led to complications.
McIntosh brings counts of breach of express and implied warranties, defective design, failure to warn, and negligence. She seeks compensatory and special damages, legal fees and other such relief as the court deems necessary, just and proper.
FDA states vaginal mesh complications "not rare"
The FDA issued a Public Health Notification on October 20, 2008. In it, over 1,000 complaints connected to vaginal implants were described. These complaints were made over a three-year period.
The FDA updated their warning regarding transvaginal implants and vaginal mesh failure on July 13, 2011. They informed the public that complications from these devices were not rare. They also added that there is no evidence that the placement of the devices are any more effective in treating such problems as pelvic organ prolapse than other techniques that don't use mesh devices.
Mesh devices designed to treat patients with POP and SUI
Plaintiff McIntosh's attorney began by establishing that the Lynx sling is an implantable mesh device that is designed to treat patients suffering from pelvic organ prolapse (POP) to relieve the pain, bladder control problems and overall discomfort that patients with POP experience. Following implantation, the mesh is meant to assist in strengthening the weakened vaginal wall and support the urethra for patients who suffer from stress urinary incontinence (SUI).
Mesh device approved without clinical testing
The mesh product manufactured by Boston Scientific is a Class II medical device for which the company attempted to receive approval via the FDA's 510(k) approval process. When using this process, the device is not placed under extensive review by the FDA. It is a pre-market submission demonstrating that the device is at least as effective and safe as a device that has already been approved.
The plaintiff's attorney alleges that Boston Scientfic chose this option to avoid clinical testing to prove their product's safety and that they wanted to market the product without performing clinical trials.