Zimmer Knee Lawsuit is Headed to Federal MDL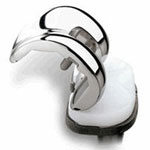 A new Zimmer knee lawsuit is headed for federal court after being filed by a plaintiff in the United States' District Court for the Eastern District of Pennsylvania. It has since been transferred to the United States' District Court for the Northern District of Illinois. This federal court is the site of a consolidation of dozens of Zimmer knee lawsuits that have been filed across the country by plaintiffs who have experienced Zimmer knee replacement problems after being implanted with the popular devices.
Zimmer knee revision surgery a particular concern
Sandra Stevenson is the plaintiff involved in this new Zimmer knee lawsuit, which was filed on the 18th of January, 2013. She claims that she underwent Zimmer knee replacement surgery on January 21, 2011, when she was implanted with the Zimmer NexGen LPS-Flex knee replacement system. She says that shortly after she was implanted with the device, she began to experience complications and was eventually forced to undergo revision surgery on the knee replacement device on August 1, 2012.
Stevenson claims in her lawsuit that neither she nor her physician were adequately warned about the risks associated with the Zimmer knee replacement systems. Loosening of the device, persistent pain, and a reduction in mobility are all complications that have been linked to Zimmer knee replacement systems. These complications can eventually lead to the need for Zimmer knee replacement surgery, which can cause further complications for a patient–along with the risks that already come with surgical procedures, revision surgery carries an additional risk of complication and infection because of scar tissue and injury around the site of the original implant.
Zimmer knee prone to early failure
Many patients have reported complications and Zimmer knee failure after having the device implanted for only a few months or years. Some doctors feel that this may be caused by a design flaw that prohibits the device from fusing to the thigh bone in some cases.
Many patients like Stevenson who have experienced premature Zimmer knee failure have filed lawsuits against the manufacturer of the knee replacement devices, seeking compensation for their injuries with the help of a personal injury lawyer.