Alabama Plaintiff Adds Pradaxa Suit to Illinois MDL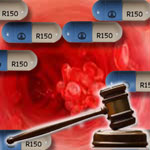 Tisha P. Meredith became one of the latest patients to become involved in Pradaxa litigation after filing suit against the manufacturer of the blood thinning medication, Boehringer Ingelheim Pharmaceuticals, Inc. The plaintiff joins others who have filed similar lawsuits, claiming that they have suffered serious side effects after taking the medication. These side effects include severe internal bleeding and hemorrhaging, among other issues and complications. Plaintiff Meredith's lawsuit has joined other Pradaxa cases in the United States' District Court for the Southern District of Illinois, a multidistrict litigation consolidation over which Judge David R. Herndon presides.
Pradaxa marketed as a safe blood thinner
Pradaxa has been marketed as a safe and effective blood thinning medication, in contrast to warfarin, which has been widely used for many years. Warfarin does the same work as Pradaxa–it thins the blood to reduce the patient's risk of strokes and systemic embolisms in patients who suffer from non-valvular atrial fibrillation, a condition that makes these events more likely. Warfarin requires patients to stick to a strict diet, however, and receive regular monitoring from their doctors.
Pradaxa requires less monitoring and patients taking it are able to be more lenient with their food choices. However, unlike with warfarin, there is no 'antidote' to excessive bleeding that can be caused by Pradaxa. With any blood thinner, there is a certain risk of excessive bleeding, but in patients using warfarin, this can be stopped with the administration of a dose of vitamin K. Pradaxa-related bleeding is much more difficult to control and to stop.
Plaintiff Meredith's Pradaxa lawsuit asserts that although Pradaxa might be slightly easier for patients to use and doctors to administer, this ease of use comes at the cost of patient safety. Levels of Pradaxa in a patent's blood can be difficult or even impossible to regulate and assess, another complication resulting from the allegedly flawed nature of the drug's formulation. Meredith, like other plaintiffs, experienced side effects including gingival bleeding as well as acute blood loss anemia.
Lasting side effects linked to Pradaxa
Meredith claims that since she experienced her Pradaxa side effects, she has been left with lasting conditions such as profound coagulopathy and acute blood loss. she is bringing a number of counts against drug maker Boehringer Ingelheim, including fraudulent concealment, deceptive and unfair trade practices, negligence, design defect, manufacturing defect, marketing defect, and failure to warn. She is seeking compensatory and punitive damages that would help cover economic and medical losses that she has experienced as well as the pain and suffering that she claims is ongoing.