Hip Lawsuit Carried On by Deceased Plaintiff's Executor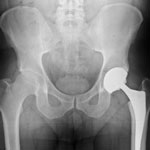 A plaintiff who filed a Zimmer hip lawsuit in the United States' District Court for the District of Illinois and then later passed away was seeking compensation for the injuries she allegedly suffered related to the Zimmer Trilogy hip replacement system. Mary Jo Ott died at the age of 66 of causes unrelated to her hip replacement complications, and the executor of her estate, Jori A. Greybill, is continuing with the plaintiff's lawsuit. The lawsuit holds device manufacturer Zimmer liable for the injuries the patient suffered after being implanted with one of their many hip replacement systems.
Zimmer moves for summary judgment
Zimmer Inc., the defendant in the lawsuit, recently moved for summary judgment and argued that the plaintiff hadn't provided expert testimony to support the claims she was making against Zimmer. The presiding judge, however, disagreed. Federal Judge William Hart pointed out that Greybill had provided testimony both from Mitchell Sheinkop, the orthopedic surgeon who first performed the hip replacement procedure on Ott, and Michal O'Rourke, who performed the revision surgery Ott underwent on September 5, 2008.
The judge concluded that this evidence was enough to preclude a summary judgment in the lawsuit and the case should continue as expected. Ott's lawsuit is not the only one that has been filed against Zimmer in recent years–many plaintiffs have commenced litigation against the orthopedics manufacturer after experiencing problems related to hip replacement systems they have manufactured and marketed, but most of these lawsuits deal with the Durom Cup hip replacement system as opposed to the Trilogy, which is the device Ott had an issue with.
However, Ott is not the only one to have filed a lawsuit dealing with problems related to the Trilogy hip replacement system. A Texas man filed a lawsuit in January of last year claiming that within 15 months of being implanted with the Trilogy device, he began to experience complications. He, like Ott, eventually had to have revision surgery that would ultimately remove and replace the device in question.
Problems in manufacturing addressed by FDA
The Food and Drug Administration sent Zimmer a letter on the 19th of September, 2012, warning the company of problems that had been pinpointed in the manufacturing facility in Ponce, Puerto Rico. This is the facility in which the Trilogy system is made. Zimmer allegedly had no testing mechanism at that location, which would help ensure that Trilogy devices matched design specifications. The FDA also noted that the marketing facility lacked quality test manufacturing for products, such as the Trilogy device, which incorporate metal spikes. Zimmer responded a month later by saying it had acknowledged and addressed these issues within their facility.