Johnson & Johnson Loses First DePuy ASR Lawsuit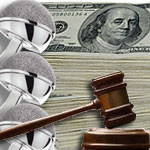 Johnson & Johnson lost its first DePuy ASR hip lawsuit and was ordered to pay the Montana claimant $8.3 million in damages. The trial took place in Los Angeles, California Supreme Court before a 12-member jury. The jurors deliberated for five days before rendering their verdict, which the defendants plan to appeal. This is the first of more than 10,000 DePuy hip lawsuits pending against the orthopedic products manufacturer and may be good indication of future outcomes. Some analysts in the legal community predict that litigation involving the defective A.S.R. implant – which was subject to a recall – may cost Johnson & Johnson billions of dollars in the coming months.
J & J faces more than 10,000 DePuy hip lawsuits
The DePuy ASR recall was issued in 2010, after concerns over early failure rates and severe complications surfaced among patients implanted with the device. The Montana plaintiff in this case, Mr. Loren Kransky, has terminal cancer and had his trial pushed forward due to his declining health. The retired prison guard was awarded $338,000 for his medical expenses and another $8 million for his pain and emotional suffering. On hearing the verdict, Kransky's lawyers said, "This is a victory for Mr. Kransky and thousands of other badly damaged A.S.R. patients who have yet to get their day in court."
The Articular Surface Replacement (A.S.R.) Acetubular System is one of DePuy's metal-on-metal hip replacement devices, and was linked with problems from the start.  In 2009, the FDA sent confidential correspondence to Johnson & Johnson – Parent Corporation of DePuy – regarding the pending clearance of the ASR in the United States, citing worries that the manufacturer had not provided sufficient clinical data to indicate the system's safety.  It's estimated that some 30,000 patients received the ASR in the United States before the recall was mandated, and thousands of those individuals have reported debilitating complications such as metallosis, chronic pain, limited mobility, bone fractures and inflammation. Most of these patients have had to endure painful and risky revision surgery to address the failed device and have racked up thousands of dollars in related hospital bills.
Evidence was presented during the trial that indicated Johnson & Johnson had pondered redesigning the A.S.R. to correct its defects, but abandoned the project due to flagging sales.  At the core of the hip replacement's design flaws were its metal cup and ball components that would rub against one another, shedding metallic debris into the surrounding tissue – leading to tissue death and bone damage.
Similar claims against DePuy centralized in multidistrict litigation
In light of the thousands of individual claims stemming from alleged A.S.R. hip complications, the Judicial Panel on Multidistrict Litigation (JPML) centralized all federal complaints regarding the device under one judge for more efficient pretrial proceedings. At present, DePuy hip lawsuits involving A.S.R. models number more than 6,000. The multidistrict litigation (MDL no. 2197) is taking place in the U.S. District Court for the Northern District of Ohio under Honorable Judge David A. Katz. Most plaintiffs are suing the manufacturer for medical expenses, lost wages, disability, and pain and suffering.
Lorie Gawreluk – a spokeswoman for DePuy – said in a statement that the corporation plans to appeal the recent verdict, asserting that the ASR hip replacement does not suffer from a defective design. All eyes will be watching the next ASR lawsuit to see how juries respond. Kransky's legal team stated, "Jurors across the country will return similar verdicts until J&J takes full responsibility."