New Study Reveals Risk Factors for Vaginal Mesh Complications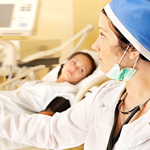 Factors like age, prior hysterectomies, and severity of pelvic organ prolapse (POP) may be risk indicators for vaginal mesh complications, according to new research conducted by a Russian medical team. Their findings were made public at the 28th annual European Association of Urology Congress. From 2006 to 2010, the scientists examined 677 patients who underwent transvaginal placement of surgical mesh for the treatment of POP. They discovered that 152 patients experienced surgical mesh problems – a rate of 17.3 percent – either during or following the operations.
Vaginal and pelvic hematomas were the most universal complications, reported in 5 percent of women, followed by perineal hematomas at 2.5 percent. Other problems included rectal damage, bladder and urethra injuries. Among the most significant vaginal mesh complications were mesh erosion, which developed in 32 patients, in addition to pelvic abscesses, fistulas and mesh contraction. The team concluded that younger women, and those who had previous hysterectomies and less severe forms of POP, were more inclined to experience major complications after receiving transvaginal mesh.
Research may help prevent future vaginal mesh injuries
In light of the mounting litigation against vaginal mesh manufacturers in the U.S., the research may help women who are considering surgical mesh for POP repair to reconsider the risk factors involved. Thousands of women are pursuing legal recourse in the form of transvaginal mesh lawsuits after sustaining life-altering complications, claiming that the devices were manufactured with defects which put them at increased risk for catastrophic injuries.
Debilitating vaginal mesh complications cited among women include the following:
Mesh erosion or extrusion into the vagina or bowel
Perforation of the bowel, bladder, or blood vessels
Chronic pain in the pelvic region
Infection
Painful sexual intercourse
Recurring urinary tract infections
Vaginal scarring and bleeding
Urinary incontinence
Mesh failure, indicating need for revision surgery
At this time, multidistrict litigation (MDL) has centralized federal vaginal mesh claims against manufacturers such as Boston Scientific, American Medical Systems, C.R. Bard, Ethicon and Cotoplast. The products liability MDL is underway in U.S. District Court for the Southern District of West Virginia.
FDA weighs in on surgical mesh problems
Between 2008 and 2010, the FDA received nearly 3,000 complaints of severe vaginal mesh complications, prompting the agency to determine that problems with surgical mesh are not rare. The FDA cautions that "it is not clear that transvaginal POP repair with mesh is more effective than traditional non-mesh repair in all patients with POP." The agency went on to add that surgery with vaginal mesh may put women at a higher risk for complications.
$11.1 million awarded to South Dakota vaginal mesh plaintiff
As of March 2013, notable vaginal mesh trial outcomes include that of Linda Gross, a former hospice nurse from South Dakota who sued Johnson & Johnson and its Ethicon unit after suffering horrific injuries from the Gynecare Prolift mesh. Gross endured 18 corrective surgeries to address her vaginal mesh complications and describes her life now as a "living hell." A New Jersey jury ordered the company to pay Gross $3.35 million in compensatory damages and $ 7.76 in punitive damages, supporting the plaintiff's charges of fraudulent misrepresentation and failure to warn. In an earlier vaginal mesh trial, a California Superior Court awarded $5.5 million to a woman for injuries she sustained from C.R. Bard's Avaulta mesh.