South Dakota Nurse Wins $7.76 Million in Ethicon Vaginal Mesh Lawsuit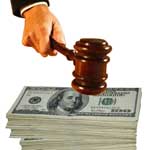 Plaintiff Linda Gross, a South Dakota nurse who filed a vaginal mesh lawsuit against Ethicon and parent company Johnson & Johnson (J&J), was recently awarded $7.76 million in punitive damages by a New Jersey jury.
Gross initially sought compensation for transvaginal mesh complications after suffering 18 corrective surgeries to solve problems allegedly caused by Ethicon's Gynecare Prolift mesh. Her case was the first of about 3,000 alleging injuries from Ethicon mesh to go to trial in January, 2013.
On February 25, the Atlantic County jury determined that J&J should pay $3.35 million in damages for her pain and suffering, lost wages, medical treatment, and her husband's loss of consortium claim. Gross then pushed for punitive damages—the recent $7.76 million award is the result.
Plaintiff claims injuries in vaginal mesh lawsuit
Gross claimed in her original vaginal mesh lawsuit, filed in November 2008, that she was implanted with the Gynecare Prolift mesh in 2006. She elected to go through the surgery to treat her pelvic organ prolapse (POP), a condition in which a woman's pelvic muscles become too stretched or weakened to adequately support pelvic organs like the bladder, bowel, and uterus. These organs then drop or fall against the vaginal wall, causing symptoms like pressure and urinary incontinence.
Ethicon advertised the Gynecare Prolift as a treatment offering quicker recovery and long support of pelvic organs, with low risk of complications. In 2011, however, the FDA warned that complications were not rare after surgery with transvaginal mesh, and included mesh erosion, severe pelvic pain, infections, extrusion of the mesh, painful sexual intercourse, bleeding, and urinary problems. They added that they were not clear that mesh surgery provided any additional benefits over traditional POP surgery without mesh.
Gross stated in her vaginal mesh lawsuit that she suffered from complications after her surgery, including mesh erosion, scar tissue, inflammation, and neurologic compromise to structures and tissues. She sought compensation to cover the 18 corrective surgeries she had to endure to repair the damage caused by the mesh.
Vaginal mesh litigation news of verdict in February
At the end of February 2013, vaginal mesh litigation news sites were alive with the announcement of the initial verdict in this case, with lawyers speculating that the decision may open the door to potential future settlements in other cases. After this recent decision involving punitive damages, however, Ethicon stated that it plans to appeal, indicating it intends to continue to fight allegations made against its mesh products.
The jury in this vaginal mesh lawsuit did not find that the Gynecare Prolift was defective, but did determine that Ethicon had failed to provide adequate warnings of the risks to doctors, and that the company had misrepresented the procedure in patient brochures.
Other women seeking compensation for transvaginal mesh complications
J&J ceased sales of four Gynecare mesh products in June 2012. They did not admit to any defects with the products, but simply stated that they lacked commercial viability.
Regardless of J&J's promise to appeal, the verdict seems to be good news for other women seeking compensation for transvaginal mesh complications. In addition to the thousands of additional lawsuits faced by J&J, other mesh manufacturers, including C&R Bard, American Medical Systems, Boston Scientific, and Coloplast, also face claims brought by thousands of women.