Pradaxa Lawyer Adds New Complaint to Illinois MDL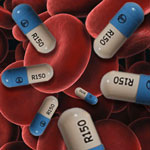 On March 26, 2013, a new complaint was filed against Boehringer Ingelheim Pharmaceuticals, Inc. regarding the blood-thinning medication, Pradaxa, which is manufactured by the defendants. The complaint was filed on behalf of Lisa R. Mulhall, the surviving daughter of Louise Newcomer, deceased. The decedent allegedly suffered from gastrointestinal bleeding from Pradaxa.
This complaint is currently proceeding in the U.S. District Court of the Southern District of Illinois under Judge David R. Herndon. The filing adds a new case to the growing multidistrict litigation (MDL) No. 2385. The MDL was created to streamline the process of trying many Pradaxa lawsuits against Boehringer which share common allegations, such as uncontrolled bleeding.
Complaint alleges gastrointestinal bleeding from Pradaxa
According to the complaint, the decedent began taking Pradaxa on September 27, 2011 in order to treat her atrial fibrillation. Atrial fibrillation is a condition in which an irregular heartbeat interferes with proper circulation. It can result in medical complications like stroke or heart attack, particularly when it is not properly controlled.
Not long after beginning her course of medication, the decedent allegedly experienced severe gastrointestinal bleeding from Pradaxa.  She also presented with hemoptysis, which refers to coughing up blood, and epistaxis, a nosebleed. On October 31, 2011, the decedent was hospitalized. Physicians noted excessive and uncontrollable bleeding, which led to her death on November 14, 2011.
Number of Pradaxa lawsuits climbing
This complaint adds further weight to the allegations made by plaintiffs, who claim that Pradaxa is an unreasonably unsafe medication. The drug was first approved by the FDA in 2010, and it was widely hailed as an alternative to another blood-thinner, Coumadin. From 2010 to the end of March 2011, about 272,119 prescriptions for Pradaxa were issued in the U.S. Of those, 932 serious adverse events were reported, including 500 reports of Pradaxa-related bleeding and at least 120 deaths.
During 2011, reports of adverse events and deaths continued to climb. The adverse events prompted an announcement of a drug safety review by the FDA on December 7, 2011. As of December 31, 2011, more than 500 deaths have been linked to Pradaxa.
No antidote for uncontrollable bleeding
Unlike its predecessor, Coumadin, there is no antidote for patients who experience uncontrollable bleeding while on Pradaxa. Pradaxa is a direct thrombin inhibitor intended to prevent blood clots. Coumadin achieves the same results, but patients who experience bleeding while on Coumadin can be administered therapeutic doses of vitamin K to halt the bleeding. This antidote does not work for those on Pradaxa, which has allegedly led many to die from excessive blood loss.
Pradaxa lawyer alleges over-promotion
According to the complaint, the decedent had no knowledge of the life-threatening risks of Pradaxa at the time she was prescribed and took the medication. The plaintiff's lawyer alleges that Boehringer Ingelheim did not adequately warn patients and physicians of the serious risks of the drug. The lawsuit further contends that the defendants over-promoted the medication and overstated its efficacy while ignoring serious safety concerns.
The plaintiff is seeking compensatory and actual damages in excess of $75,000. She is seeking compensation for medical expenses, burial and funeral costs, pain and suffering, loss of earnings, loss of companionship, and wrongful death.