Pradaxa vs Warfarin: FDA Weighs In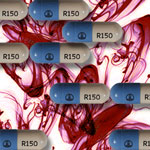 The Food and Drug Administration has published an editorial detailing the complications patients have encountered associated with the blood thinning medications Pradaxa and warfarin. Pradaxa is a relatively new medication that was marketed as a replacement to warfarin, which was the leading anticoagulant drug on the market before Pradaxa was introduced. The FDA's editorial, which was published in the New England Journal of Medicine, suggests the fact that the organization has received a large number of reports of side effects associated with Pradaxa might have something to do with the newness of the medication as well as coverage of the drug and it's side effects by the mass media.
Studies have shown that the risks of bleeding with Pradaxa are similar to the risks associated with warfarin. However, in many cases, patients and physicians are more concerned with the fact that, unlike warfarin, there is no reversal agent that will stop Pradaxa bleeding when it starts.
FDA reports on Pradaxa side effects
As with any anticoagulant drug, both Pradaxa and warfarin come with a certain risk of bleeding. This is virtually unavoidable–they work to reduce the possibility of clotting, meaning that some adverse bleeding events may occur. The FDA notes that the actual bleeding rates of the two medications are relatively similar. However, there are concerns many experts have with Pradaxa that are not present with warfarin.
Because Pradaxa bleeding is not as easily stopped as bleeding associated with warfarin, the complications from it can be much more severe. The Institute for Safe Medication Practices reported in May of 2012 that the number of reports of patients of Pradaxa who suffered side effects from the medication far outnumbered any of the other medications that the organization oversees in the year 2011. In that year, a total of 3,171 adverse events related to Pradaxa were reported. This figure includes 542 patient deaths. In contrast, warfarin was linked in the same year to 72 patient deaths, and 1,106 total adverse side effect incidents.
Patients aware of side effects
Because the Food and Drug Administration is focusing on the actual bleeding risk and not the ease with which bleeding events are stopped or reversed, the true picture of the relative dangers of Pradaxa and warfarin might not be clear. However, patients who have suffered Pradaxa side effects know well the dangers of the medication and its possible consequences. Some patients have chosen to file a Pradaxa lawsuit, which not only could help the plaintiff win compensation for the injuries he or she has suffered after using the medication, but could increase pressure on the drug maker and the Food and Drug Administration to take additional action in regards to improving awareness about the potential dangers of the blood thinner.