Stryker Rejuvenate Hip Lawsuit Cites Metal Fretting and Corrosion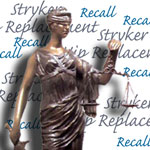 Citing Stryker hip complications involving the Rejuvenate system, Elaine and Nels Petersen allege Howmedica Osteonics sold a defective product while failing to disclose the risks, dangers and side effects, such as metal fretting and corrosion. The couple filed their Stryker hip lawsuit on April 9, 2013 in the U.S. District Court, Eastern District of California (Sacramento). The products liability/personal injury claim levels several counts against the defendant, including failure to warn, manufacturing and design defect, misrepresentation, failure to recall, and omission of facts. Plaintiff Elaine Peterson is also seeking damages for loss of spousal consortium.
The Rejuvenate system is a dual modular hip replacement that was cleared by the FDA in 2008 for sale in the United States. A worldwide Stryker Rejuvenate recall was issued in July 2012, nearly one year after Nels Petersen was implanted with the device. Both he and his wife are requesting actual and punitive damages for the serious and permanent physical injuries that allegedly stemmed from the Rejuvenate's cobalt and titanium components.
Allegations raised in Stryker hip lawsuit
In their promotional materials for the Rejuvenate and ABG II modular neck stems, Stryker maintained that the titanium alloys used were stronger and less rigid, and that testing proved they were more resistant to the effects of corrosion and fretting. The Rejuvenate was also thought to offer orthopedic surgeons more flexibility and precision when choosing a hip replacement prosthesis for each patient's unique anatomy. However, according to claims in the Petersen's lawsuit, despite Stryker's promo materials and claims, this combination has been reported to cause galvanization and fretting. Medical literature as early as the 1980s has warned of fretting when titanium and cobalt alloys are used in modular neck junctions.
Following reports of heavy metal contamination and total device failure, the manufacturers sent an Urgent Field Safety Notice to hospitals and surgeons in April 2012. In the notice,  Stryker acknowledged these complications, which ranged from tissue necrosis, the formation of pseudo-tumors and adverse soft tissue reactions. Less than three months later, the products were pulled from markets in the voluntary Stryker Rejuvenate recall, but this action came too late for Nels Petersen, and many other patients like him.
The California plaintiffs contend that Stryker failed to report adverse events involving the Rejuvenate system in a timely manner to the FDA, and also neglected to conduct necessary design testing and verification. The Petersens label the Rejuvenate hip replacement system as a "defective medical device" that is dangerous to consumers.  Nels Petersen claims that after he was implanted with the prosthesis, he began to suffer extreme pain, the inability to walk and other injuries that required revision surgery to correct and replace the implant. As a result of these complications, the plaintiff has incurred substantial medical expenses, which he says continue to this day.  In his Stryker hip lawsuit complaint, he charges the defendants with failing to adequately test the Rejuvenate to ensure it would not erode or cause severe metal toxicity in recipients.
Hip revision surgery comes with additional risks
Hundreds of recipients of the Stryker Rejuvenate system have had to endure painful corrective surgery after developing metal toxicity from cobalt and chromium ions that leached into the tissues and bloodstream.  Unfortunately, hip replacement revision surgery comes with additional risks such as infection, unintended bone fractures, risk of dislocation and extended recovery and rehabilitation.