Eight New Stryker Hip Settlements Reached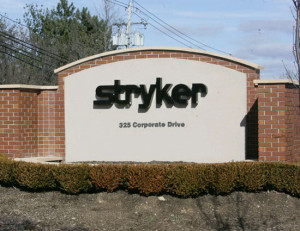 Stryker hip settlements have been reached in eight of the nine Stryker Rejuvenate hip lawsuits involved in a court-ordered mediation process under the jurisdiction of the Superior Court of New Jersey for Bergen County.
Close to 1500 Stryker Rejuvenate recall lawsuits have been filed across the country, alleging that the recalled hip replacement system has serious flaws and a high early failure rate. More than half of the cases have been consolidated in the Bergen County court as part of multi-county litigation (MCL) under Judge Brian Martinotti.
MCL differs from a class action lawsuit in that each case is heard on its own merits, though cases take place under the same judge following a shared discovery process.
Judge Martinotti ordered the mediation process, which was designed to avoid further protracted court battles. It began with 10 cases, though one was delayed; following the successful resolution of eight of nine remaining cases in the initial mediation phase, a second phase with 10 new cases will follow.  The selection process is currently underway, with Stryker Corp. ordered to finalize selection by March 14, 2014.
Stryker Rejuvenate recall lawsuits
The Stryker Rejuvenate and ABG II hip replacement systems were voluntarily recalled by Stryker Corp., the Mahwah, NJ-based medical-device manufacturer, in July of 2012.  The systems had been cleared by the FDA in 2008 and 2009 respectively; however more than 60 reports of problems with the hips reached the FDA in the years immediately following their clearance.
Whereas replacement hips are generally expected to last from 15 to 20 years, many patients found their hips failing in as little as two years.
The components of the hip implants were found to loosen, grind against one another, and allow metal fragments to enter the bloodstream. Patients reported pain, inflammation, and infection; nerve, tissue, muscle, and bone damage; untoward squeaking and popping sounds; compromised mobility; and other side effects.
In many cases, they were forced to undergo painful, inconvenient, and costly hip revision surgery only a few years after the implantation of the Stryker hip.  Stryker Corp. issued a safety notice to surgeons concerning the side effects of metallosis in April of 2012.  The first of thousands of Stryker Rejuvenate recall lawsuits was filed a month after the recall notice in July of the same year.
NJ Stryker hip settlements may influence litigation process
Of the Stryker Rejuvenate recall lawsuits not taking place in New Jersey, close to 600 have been centralized in the federal court system as part of a multidistrict litigation (MDL) under Judge Donovan Frank in the District of Minnesota.  A mediation process may also take place in this court, depending on whether further Stryker hip settlements are reached in the second round of mediation in the New Jersey court.
If the mediation process is not successful, the next phase in the litigation process will probably be to schedule small groups of preliminary cases, known as "bellwether" cases, which provide an early view of how other, similar, cases that are part of the MDL are likely to be resolved if they go to trial.