Stryker Hip MDL Judge Seeks Cooperation with State Mediation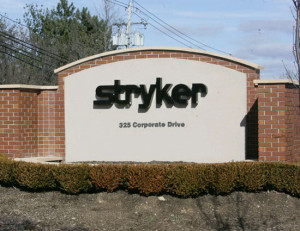 In an effort to encourage continued settlements of Stryker hip recall lawsuits in federal court, the judge presiding over the multidistrict litigation (MDL) has issued an order for a group of attorneys to work with lawyers representing plaintiffs in New Jersey state court.
Although there are over 1,500 Stryker lawsuits pending in various courts around the United States, the majority – over 900 – are filed in New Jersey under state court jurisdiction, which is the location of the hip manufacturer. The balance of cases are consolidated under multidistrict litigation.
Multidistrict litigation is often formed when a large number of lawsuits with similar allegations against one or more defendants are filed in different federal courts around the country. The purpose of the MDL is to streamline pretrial matters such as discovery, pretrial hearings, and mediation.
Stryker recalls Rejuvenate and ABG
After less than two years from its introduction to the market, Stryker voluntarily recalled the Rejuvenate and ABG II modular hip systems in July 2012 citing "potential risks associated with fretting and corrosion at the modular neck junction."
In response to the Stryker hip recall, the FDA stated, "Patients who received a Rejuvenate Modular or ABG II modular-neck stem are encouraged to contact their surgeon. Patients uncertain if they have one of these products implanted should contact their surgeon or consult their medical records."
Approximately 20,000 Stryker Rejuvenate hip implants have been given to patients in the United States and another 10,000 in other locations around the world. In an advisory to investors, the company predicted between $190 million to $390 million in liability for the faulty prosthetics.
Thousands need revision surgery
Many doctors are finding themselves in the uncomfortable position of performing revision surgery to remove the same hips they implanted into their patients previously who believed their new hips would last 15 to 20 years.
According to the Pittsburgh Post-Gazette, common complaints of plaintiffs include "muscle, nerve and bone damage as the metallic components of the device rub against each other, causing metallic 'dust' to be released into neighboring tissue and absorbed into the bloodstream."
Current status of Stryker hip recall lawsuits
Hopes are high on all fronts that the current trend of Stryker hip settlements will continue and increase with the combined efforts of the plaintiffs from both the state and federal court lawsuits.
In the meantime, the final stages of discovery, and pretrial motions and hearings are well underway in the Stryker multidistrict litigation. The first trials – known as bellwether trials – are anticipated to begin in September 2015. Bellwether trials are representative cases picked by the plaintiffs and the defendants to gauge how juries will respond to the evidence and testimony presented at trial.
With the manufacturer setting money aside for anticipated liability and the plaintiffs from state and federal courtsworking in cooperation, indications are settlement negotiations will continue.