U.S. and Canadian Health Regulators Warn About Uterine Power Morcellation in Hysterectomy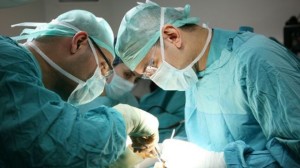 Federal health regulators in both the United States and Canada have released safety communications regarding power morcellation risks in laparoscopic hysterectomy procedures. On April 17, 2014, the FDA openly discouraged the use of laparoscopic power morcellation during hysterectomy or myomectomy for the treatment of uterine fibroids.
Morcellators are electric devices that break up tissue into smaller fragments for removal through a tiny incision, and are frequently used in various kinds of minimally invasive surgeries, such as the da Vinci hysterectomy and the removal of uterine fibroids (myomectomy).
The main concern is that power morcellation can inadvertently spread cancerous cells, such as uterine sarcoma, into adjacent tissue beyond the uterus. Fibroid tumors are non-cancerous and relatively common among women. Sometimes asymptomatic, these benign tumors can also cause patients to suffer from pelvic pain and pressure, heavy menstrual bleeding and frequent urination.
In cases like these, women may seek a myomectomy or laparoscopic hysterectomy (traditional or robot-assisted), without full knowledge of potential risks.
Morcellation and potential da Vinci hysterectomy risks
According to the FDA, about one in every 350 female patients who have laparoscopic removal of fibroid tumors has undetected uterine sarcoma.
"If laparoscopic power morcellation is performed in women with unsuspected uterine sarcoma, there is a risk that the procedure will spread the cancerous tissue within the abdomen and pelvis, significantly worsening the patient's likelihood of long-term survival. For this reason, and because there is no reliable method for predicting whether a woman with fibroids may have a uterine sarcoma, the FDA discourages the use of laparoscopic power morcellation during hysterectomy or myomectomy for uterine fibroids," states the agency in their safety communication.
U.S. health regulators also urge women that if a laparoscopic hysterectomy or myomectomy is suggested, to ask their doctor if a power morcellator will be used during the procedure, and to outline the perceived benefits of this treatment option.
One of the key problems is that uterine and cervical cancers are extremely difficult to detect or diagnose preoperatively. Screening methods are not 100 percent accurate, therefore if a woman underwent a daVinci hysterectomy with power morcellation, she may be at increased risk for spreading cancer, in the event a sarcoma was present.
Health Canada warns about risk of spread of unsuspected uterine sarcoma
On May 7, Health Canada issued a similar warning about power morcellation risks. International reports from medical providers have linked the use of these devices with the inadvertent spread of uterine malignancies, affecting the overall survival rate of patients.  Gynecological surgery with these devices has been associated with disseminated peritoneal sarcomatosis.
In light of the prevalence of unsuspected uterine sarcoma, Canadian health officials offered the following advice to healthcare providers who are treating cases of uterine fibroids:
Understand the frequency of unsuspected uterine sarcoma in patients who may have a hysterectomy or myomectomy
Consider treatment alternatives for women with symptomatic uterine fibroids and review these options with each patient. Apart from laparoscopic methods, alternative surgical procedures may be used that don't require power morcellation
Inform patients that laparoscopic morcellation of uterine sarcoma during hysterectomy or fibroid removal can spread the cancer cells and negatively impact prognosis
These recent safety announcements may affect future litigation, as one case brought by a New York woman argued that power morcellation during her hysterectomy with the da Vinci robot caused cancer to spread in her peritoneal cavity.
The lawsuit named Ethicon as defendant, though Intuitive Surgical – manufacturer of the da Vinci system – is also facing product liability claims arising from injuries and complications with the robotic device.