Stryker Rejuvenate Hip Settlements Reached in 17 Cases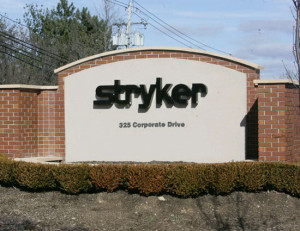 Following the voluntary Stryker hip recall of 2012, which pulled ABG II and Rejuvenate hip replacement systems off the market, thousands of affected patients sought legal recourse in an attempt to recover damages for pain, suffering, medical costs and lost income incurred.
In the past few years, more than 1,500 claims have been filed in district and state courts throughout the country, alleging Stryker negligently designed and manufactured a defective medical device that put recipients at risk for metallosis (heavy metal blood poisoning) and other incapacitating injuries.
Many of these product liability suits have been coordinated for more streamlined pretrial proceedings in New Jersey state court, before Judge Brian R. Martinotti.  The Stryker Rejuvenate multi-county litigation is taking place in Bergen County, where Judge Martinotti  began a mediation program in an effort to resolve cases in a timely manner and avoid potentially lengthy and expensive individual trials.
According to case management order #17 issued on June 23, 2014 by Martinotti, a Stryker Rejuvenate settlement has been reached in 17 out of the 18 lawsuits that have been chosen for mediation in the program. Three more cases are slated for settlement talks this month, and another 10 claims will go through the mediation process next month.
Success with Stryker Rejuvenate hip settlement negotiations
In 2013, all qualifying Rejuvenate and ABG II lawsuits were consolidated in New Jersey Supreme Court as multi-county litigation (MCL) and assigned to the Honorable Brian R. Martinotti. The MCL has helped reduce burdens on the judicial system by centralizing claims involving similar allegations against a common defendant before one judge, permitting both parties to share in the discovery process and other pretrial matters.
Bellwether trials, which are chosen among a select group of Rejuvenate lawsuits in the litigation, are supposed to start in the summer of 2015. However, if settlements continue to be reached between claimants and the defendant, these may prove unnecessary, thus eliminating the need for protracted and costly trials and potential appeals.
Litigation against Stryker Orthopaedics is also unfolding on the federal level, with an estimated 1,000 claims coordinated in the U.S. District Court of Minnesota before Judge Donovan Frank.
Formal mediation efforts are also underway in the Stryker hip MDL (No. 2441). As with state-level mass torts, or multi-county litigation, multidistrict litigation "serves the convenience of the parties and the witnesses and promote the just and efficient conduct of the litigation for pretrial purposes."
All plaintiffs whose cases have been joined under MDL No. 2441 retain the right to their own jury verdict or pretrial settlement with the defendant.
Rejuvenate recall mandated due to device corrosion
Before Stryker instituted their voluntary recall of the hip replacement systems, more than 20,000 of the devices had been sold to unsuspecting patients in the United States. The implants' modular neck-stem design, which had been promoted for their custom fit ability, were later found to suffer serious design flaws as the components wore, allowing microscopic metal debris to enter patients' tissue.
Patients soon began reporting a number of serious complications with their Rejuvenate and ABG II devices, including:
Chronic discomfort
Swelling around the joint
Pseudo tumors
Lack of mobility
Inflammation
Need for premature revision surgery
More patients continue to seek legal remedies for alleged injuries and economic losses associated with their Stryker hip implants, and the manufacturer has calculated that it may pay out more than $390 million to resolve litigation and compensate victims for necessary medical treatments and surgeries.