Heartbroken Mother Files New Jersey Birth Injury Lawsuit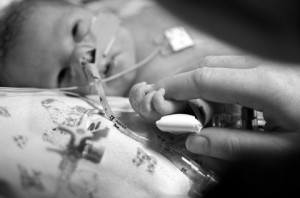 No amount of money can ever suffice when a healthy baby perishes due to a preventable birth injury. However, it is important that a medical malpractice lawsuit hold the negligent party responsible to stop future tragedies from occurring. A 34-year-old from Camden, New Jersey filed a birth injury lawsuit against Cooper University Hospital and the attending medical staff when her infant son was pronounced dead upon arrival after a difficult labor. A cesarean birth would have been the appropriate "standard of care," given the plaintiff's situation, her counsel argued.
Mother's medical chart incomplete
The plaintiff arrived at Cooper University Hospital on June 20 at 5:04 p.m. with ruptured membranes. However, the birthing process was less than ideal. Problems with the fetal heart rate were recorded on a monitor, but no action was taken to ensure the welfare of the baby. During labor, Dr. Chang mentioned that a vaginal delivery was likely, but it might require suction. Later, the plaintiff was told that she would "probably need a cesarean section," although no recommendation was made.
According to court records, the woman's chart presented "signs and symptoms of ongoing fetal distress," including an umbilical cord that was wrapped around the fetus's neck and the baby's failure to descend. A form filled out by the attending physician revealed these symptoms to be the stated reason for finally recommending a cesarean section 10 hours into labor. It is believed by the plaintiff's counsel that portions of the woman's medical chart were destroyed or inadequately filled out, leaving gaping omissions as to the care provided.
Regular monitoring was stopped at 3:55 a.m. Once spinal anesthesia was placed around 4:11 a.m., it is believed the baby suffered bradycardia, a heartbeat below 60 BPM. By the time he was delivered at 4:35 a.m., the heartbeat had dropped to 10-20 BPM with no heartbeat noted at 30 seconds after birth. Attempts to resuscitate the baby were unsuccessful and he was pronounced dead at 5 a.m. on July 21, 2010. The boy had no congenital birth defects, but weighed in at nearly 10 pounds, which was much too large to attempt a vaginal delivery.
Failure to provide proper standard of care cited in medical malpractice lawsuit
According to the birth injury lawsuit, the doctors should have reasonably known that the woman was a high risk candidate for vaginal birth. Not only was she delivering just over two weeks early, but she was also morbidly obese and had gestational diabetes. As of July 9th, the baby boy was already measuring over 8 pounds, which was in the 90th percentile for weight. Dr. Chang had indicated that a "cesarean section was likely," but failed to make the call in a timely manner. It is argued that a doctor of the same degree and skill would have performed the necessary medical tests, intervened to prevent hypoxia, and taken steps to deliver the baby successfully, despite size and circumstance.
Records show the plaintiff was treated for depression, insomnia, and flashbacks. Her symptoms were so severe that she was unable to perform her regular duties at work and she, therefore, suffered a loss of earning capacity. Upon seeing her baby delivered stillborn, [she] suffered severe emotional shock to her nerves and nervous system, humiliation, embarrassment, and depression," the birth injury lawsuit stated. Furthermore, the painful experienced "caused her to suffer great mental anguish, loss of life's pleasures, loss of general health, strength, and vitality, and physical pain, all of which will continue for an indefinite time into the future."
Plaintiff requests $12 million in damages
The plaintiff is requesting $12 million in compensation for expenses, physical and emotional trauma, and punitive damages. The breakdown of the birth injury lawsuit is as follows: $5 million for wrongful death, $5 million for survival action damages, and $2 million for costs and the expense of the mother.