Oregon Trial Begins for $40 Million Cerebral Palsy Lawsuit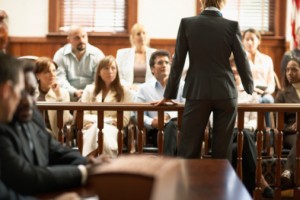 Judge Vance Day of Oregon's Marion County is presiding over a malpractice trial that alleges doctor negligence caused a child's permanent brain damage and cerebral palsy. The trial is anticipated to last roughly two weeks. Dr. Denis Dalisky and attending health care professionals at Silverton Hospital are accused of providing negligent care during the labor and delivery of the minor plaintiff, who was born in 2007 with severe neurological injuries.
The parents are suing for economic and non-economic damages of more than $40 million, according to court documents obtained by the Statesman Journal.  Based on allegations leveled in the cerebral palsy lawsuit, the defendant doctor failed to recognize signs of fetal distress and a non-progressive labor, and ordered an emergency C-section too late.
Trial begins in birth injury lawsuit
The plaintiff's birth injury complaint states that the mother presented at the hospital on December 11, 2007. At the time, she was already 15 days past her due date. The Oregon mother was given medication to help induce her labor, and over the next eleven hours delivery room personnel steadily increased the dosage since she showed little sign of progress.
After nearly twelve hours of stalled labor, the mother was instructed to start pushing by her doctor and birth team. The family's attorney claims that the baby's head was not properly positioned in the cervix to facilitate a normal vaginal birth, and as a direct consequence he began to suffer distress. The child's heart rate plummeted to just 60 beats per minute for nearly six minutes.
It was at this time, according to the claim, that Dr. Dalisky ordered an emergency Cesarean delivery.  The plaintiff's infant son was delivered via C-section at approximately 8:31 a.m. on December 12, but it was clear that the child could not breathe, having inhaled meconium while still in the womb. Meconium (fecal matter) is commonly released by a fetus in distress, which can then be inhaled into the lungs before delivery.
Nurses and a family doctor ultimately used a face mask and oxygen bag to clear away the meconium and resuscitate the baby. Silverton hospital had requested assistance from Oregon Health & Science University Hospital's mobile unit to help the child when Dr. James Walker – the family physician — removed the baby's edotrachial tube for 45 minutes.
At around 10:30 a.m., the mobile team from Oregon Health & Science University Hospital arrived at the hospital and transported the child to the neonatal intensive care unit after ensuring his condition was stable. It was during the minor's stay at the NICU unit that the parents learned their newborn son had irreversible brain damage resulting from oxygen deprivation.
Brain damage caused by lack of oxygen
Jury selection for the case began on January 21, 2015. If the panel finds the defendants liable for medical malpractice, a verdict could easily reach into the millions of dollars to account for past and future medical expenses, rehabilitation, lost income, reduced earning capacity, special schooling and emotional anguish.
The minor plaintiff will undoubtedly face a number of hurdles through his life, since cerebral palsy affects motor coordination and may impair mental development. Brain damage from oxygen deprivation is one of several potential causes of CP, though in this particular case, it is alleged that the boy's permanent disability could have been prevented through proper medical care.