New Hampshire Man Files Zimmer Hip Lawsuit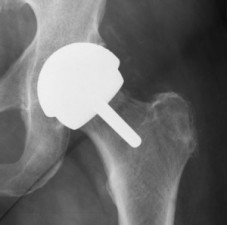 A New Hampshire man has filed a Zimmer hip lawsuit, claiming a defective device caused a serious disruption to his life. William G. Preskins underwent a total left hip arthroplasty on March 8, 2007. He initially felt better after his surgery, but ultimately began to experience severe pain and discomfort caused by the implant. Recently the muscle around his hips has begun to deteriorate as a result of increasing metal ion levels in the fluid surrounding the device.
In January 2015, he was forced to undergo a painful, complex and risky revision surgery to remove and replace the Zimmer Durom Cup. In general, revision surgeries tend to be more complicated than the original hip replacement procedure, because there is frequently a smaller amount of bone present in which to replace the new implants. Additionally, revision surgeries often take longer to complete than the original surgery and have a higher risk of complications.
Zimmer hip lawsuit details
The plaintiff claims Zimmer marketed the Durom Cup as a device that would provide him with increased stability and range of motion than other devices on the market. However, it failed to deliver. In his claim, Preskins notes that he and his physician believed the implant would last many more years that it did. He notes that he expected a "significant improvement in his quality of life" following the first surgery, but that didn't happen. He argues that the device has caused him to suffer emotional and physical harm.
"All of the injuries and complications suffered by plaintiff were caused by the defective design, warnings, construction and unreasonably dangerous character of the Durom Cup that was implanted in him," states the claim. "Had defendants not concealed the known defects, the early failure rate, the known complications and the unreasonable risks associated with the use of the Durom Cup, plaintiff would not have consented to the Durom Cup being used in his total hip arthroplasty."
Complaint cites 13 claims for legal relief
Preskins is suing Zimmer on 13 counts, including:
Breach of Express Warranty
Strict Liability — Failure to Warn and Instruct
Negligence
Unjust Enrichment
Intentional Misrepresentation
Strict Liability — Design Defect
Unfair and Deceptive Trade Practices
Enhanced Compensatory Damages
Negligence Per Se
Negligent Misrepresentation
Strict Liability — Manufacturing Defect and Failure to Adhere to Quality Controls
Constructive Fraud
Breach of Implied Warranty
Durom Cup suspended then re-launched
On July 22, 2008, Zimmer issued a voluntary recall for the Durom Cup, citing inadequate instructions for the use and surgical technique of the device. The company later released the knee implant with updated instructions for surgeons. Additionally, on March 31, 2013, Zimmer sent a letter to surgeons notifying them of an FDA post-market surveillance study of the company's metal-on-metal implants.
Zimmer requested that all surgeons send the following components back to the company for analysis, to comply with the Section 522 retrieval study:
Explanted Zimmer metal-on-metal hip implants and all associated components
Collection of tissue and fluid samples
Release of medical records necessary for the study
Shipment of tissue and fluid samples to Exponent — the company contracted to collect and analyze tissue and fluid samples
The company also issued a letter for surgeons to share with patients, to explain the purpose of the study.