Fraudulent Misrepresentation Alleged in Xarelto Lawsuit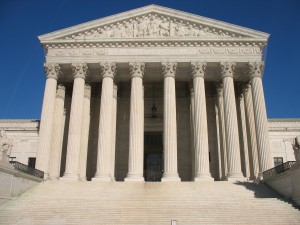 A new Xarelto lawsuit has been filed against Janssen Research & Development, Johnson & Johnson, Janssen Pharmaceuticals, and Bayer Healthcare Pharmaceuticals, Inc., et al. The complaint was filed on behalf of Lola Carson, an Ohio resident, and Allen H. Cleland, deceased.
Ms. Carson is the surviving heir of Mr. Cleland, who allegedly passed away as a result of complications caused by the defendant's medication, Xarelto. The case is currently pending in the U.S. District Court for the Southern District of Ohio and the plaintiff is demanding damages in excess of $75,000 for economic and non-economic losses.
Plaintiff suffered fatal bleeding event
According to the lawsuit, Mr. Cleland, who was born in 1935, began using Xarelto in August 2012. He was prescribed the medication to reduce potential complications of atrial fibrillation, a condition in which a disruption in the electrical system of the heart results in irregular or rapid heart contractions. He continued using the medication as directed by his doctor until March 2013.
On March 28, 2013, the decedent suffered a serious bleeding event. His healthcare team diagnosed him with an intracranial hemorrhage, or bleeding on the brain. Bleeding onto the brain tissue is one possible cause of stroke. The decedent's surviving heir demands compensation for Mr. Cleland's severe and permanent personal injuries, pain, suffering, emotional distress, and death. She claims that his injuries and subsequent death were a direct result of Xarelto.
Xarelto (rivaroxaban) uses
Xarelto is a blood-thinning medication that was developed by the defendants as a possible alternative to the gold-standard of blood thinners, Coumadin (warfarin). The newer generations of blood-thinning medications are intended to eliminate some inconveniences associated with warfarin, such as regular blood monitoring and dietary restrictions.
Xarelto may be prescribed to individuals who have or are at risk of developing deep vein thrombosis (DVT), a condition characterized by the formation of blood clots. It is also prescribed to patients such as Mr. Cleland who have atrial fibrillation. With atrial fibrillation, the upper chambers of the heart tend to shake, rather than contract properly, and the ventricles may pump abnormally. Since the capability of the heart to pump all of the blood out to the rest of the body is compromised, blood can accumulate and may form a blood clot. Blood clots can become a life-threatening condition. Xarelto and other blood thinners work by reducing the possibility that the blood will clot.
Surviving heir's allegations
Although many patients can safely take blood-thinning medications, there are potential complications. According to Ms. Carson's complaint, Xarelto is an unreasonably dangerous medication and the defendants engaged in fraudulent misrepresentation when marketing it. When discussing the defendants' alleged fraudulent misrepresentation, the lawsuit claims they represented to the FDA, the healthcare community, and to patients that Xarelto had been proven safe in clinical tests.
However, the complaint goes on to allege that the defendants had in fact concealed their knowledge of Xarelto bleeding risks, that they had not conducted adequate safety trials, and that they engaged in aggressive advertising campaigns that overstated the efficacy of the drug while understating the risks.
Specifically, one of the risks of Xarelto that allegedly led to the death of Mr. Cleland is that unlike warfarin, there is no antidote for Xarelto. This means that if a patient suffers a bleeding event, such as an intracranial hemorrhage, doctors cannot administer a reversal agent to prevent death.