Judge Orders Notice of Stryker Hip Revision Surgery in MDL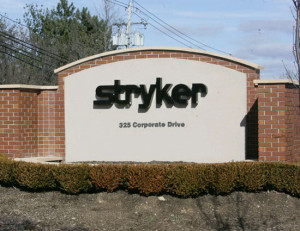 The federal judge presiding over all Stryker Rejuvenate hip lawsuits has issued an order mandating that each plaintiff who undergoes surgery to correct an allegedly defective hip implant must file notice with the court. In Pretrial Order No. 26, issued on April 17, United States District Judge Donavan Frank that such plaintiffs have 45 days to file notice, providing the "basic details of such surgery" as part of a hip revision lawsuit.
Judge Frank currently oversees cases concerning the Stryker Rejuvenate and ABG II replacement hips as part of a single multidistrict litigation (MDL) taking place in the US District Court, District of Minnesota. The MDL was created there in June of 2013 to consolidate hundreds of cases arguing that the hip implants were defective.
In many cases, the alleged defects require revision surgery.  A settlement reached last year resolved cases in which plaintiffs had revision surgery on or before November 2, 2014; however, additional plaintiffs continue to require such surgery after the deadline, thus necessitating that updates be delivered to the Court.
A Stryker hip revision lawsuit over recalled implants
Plaintiffs have filed hip implant lawsuits over both the Rejuvenate and ABG II models after both were recalled in 2012 over high rates of failure. Lawsuits state that the design of both hips is such that metal components rub together, shedding microscopic metal particles, and resulting in the loosening of the implant and other complications such as pain, immobility, and metal poisoning. Ultimately, patients implanted with the hip were often forced to undergo additional surgeries to remove the device and replace it with one that was functional.
Under the settlement agreement, Stryker agreed to pay more than $1 billion to resolve the claims of those who have already undergo revision surgery. However, additional plaintiffs who had not yet had surgery by the deadline specified in the agreement were not covered. Moreover, additional plaintiffs continue to file claims as they, too, begin to experience device failure.
Over 5,000 Rejuvenate and ABG II lawsuits filed
Over 5,000 lawsuits related to both models of Stryker hip replacements have been filed since the recall of 2012. In order to process all of these claims more efficiently, two litigation processes have been set up: the MDL in Minnesota and a state-level multi-county litigation (MCL) now taking place in Bergen County, NJ under the Honorable Brian R. Martinotti.
As under Judge Frank, litigants in the New Jersey MDL were also required to file a Notice of Revision after they underwent revision surgery, under a case management order issued last fall. A large-scale settlement has likewise been reached in the New Jersey litigation process after several individual cases reached settlements as part of court ordered mediation.
Preliminary (or "bellwether") trials had been set for both the MCL and MDL for the summer of 2015. Such trials are designed to test a jury's reactions to evidence set forth during the trial and to serve as precedent for additional trials. The ultimate objective is to encourage settlement of the remaining cases in order to avoid individual trials.