Novel Treatment in Development for Neonatal HIE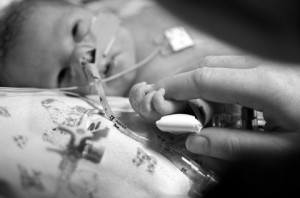 Evidence of cannabidiol's medical potential continues to grow, with the FDA approving the marijuana-based compound as a treatment for neonatal hypoxic-ischemic encephalopathy (HIE).  According to Healio.com, the federal agency recently granted cannabidiol (CBD) orphan drug designation as means to reduce the devastating neurological effects suffered by newborns with HIE.
HIE is characterized by evidence of acute or sub-acute brain damage caused by asphyxia, occurring in up to 2.8 per 1,000 births in this country.  The main cause of this condition is reduced blood flow to the brain prior to or during labor and/or hypoxemia. In those children diagnosed with HIE brain injuries, roughly 30 percent suffer from permanent disability, including seizures and non-response to physical stimuli. Another 35 percent of newborns with HIE will not live past their early childhood years.
At present, doctors have had no other HIE treatments available, leaving parents with affected children very little hope. There are several causes of asphyxia, but this complication may arise due to sub-standard care or inexperience among attending physicians. In cases where negligence was a causal factor in neonatal hypoxic-ischemic encephalopathy, families have the right to pursue a birth injury lawsuit in an effort to recover monetary compensation. Life-long medical care for a severely disabled child can cost hundreds of thousands of dollars each year, placing tremendous financial strain on parents.
Potential new treatment for neonatal HIE
GW Pharmaceuticals recently met with FDA officials in a pre-investigational conference and is expected to submit a New Drug Application for pharmaceutical cannabidiol by mid-2015. By the second half of the year, the company will likely initiate Phase I of its initial trials.
"GW continues to explore the opportunity for the development of cannabinoids in rare pediatric conditions characterized by significant unmet need," said Justin Gover, GW Pharmaceuticals CEO, in a recent press release. "This orphan drug designation for cannabidiol for the treatment of newborn children with neonatal hypoxic-ischemic encephalopathy follows several years of pre-clinical evaluation and we look forward to advancing a clinical development program in this important medical condition later this year."
While there is no guarantee regarding the long-term efficacy or safety of this novel treatment, pre-clinical trials on animal subjects have yielded promising results. Early research demonstrated that animals with brain hypoxia given an IV formulation of the compound experienced fewer neurologic impairments.
The FDA created the Orphan drug designation program for new biologics and medications that have demonstrated promise in the treatment of rare conditions and disorders that afflict fewer than 200,000 people in the United States. Since its creation, the program has facilitated market approval for more than 45 products.
Long–term effects of brain hypoxia
Every newborn case may be different, but children diagnosed with HIE may suffer a host of health problems, including:
Epilepsy
Motor skill problems
Developmental delays
Cognitive impairment
Learning disabilities
Cerebral palsy
Traditionally, treatment of HIE has focused solely on supportive care, including brain cooling treatment to prevent further cerebral trauma.  Negligence by medical professionals may be cited in an HIE lawsuit which alleges doctors failed to detect signs of respiratory distress, or waited too long to perform an emergency C-section delivery. In such tragic circumstances, litigation may be the only viable way to hold healthcare providers liable for a preventable injury.