Zofran Lawsuit Alleges Anti-Nausea Drug Caused Serious Birth Defect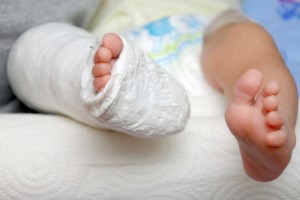 A Bergen County mother and father have filed suit in the United States District Court for the District of Jersey in what may be the very latest in the growing tally of lawsuits stemming from the use of anti-nausea medication Zofran (ondansetron) by pregnant women experiencing morning sickness.
According to the complaint, the medication is responsible for causing congenital defects in the parents' infant child, necessitating extraordinary medical interventions, surgeries and disruption to the entire family.
Zofran clubfoot lawsuit facts & accusations
In this Zofran lawsuit, the female plaintiff began experiencing debilitating morning sickness and dehydration early in her pregnancy and was diagnosed with hyperemesis gravidarum. As a result, she was prescribed popular anti-nausea medication Zofran and at one point received it intravenously. She was also given a Zofran Pump for a period of days and received the medication in pill form for the duration of her pregnancy.
In September of 2011, the plaintiffs' baby son was born with a congenital birth defect commonly referred to as clubfoot. The child's case was quite severe, with both feet appearing to have been rotated internally at the ankle. Several days following the birth, doctors began employing several techniques in attempts to correct the deformity, including tissue manipulation, straightening and casting the child's feet and legs. The extreme interventions continued through the first several months of the child's life, causing great discomfort, inconvenience and expense.
The child was also required to wear a device known as a "Mitchell shoe" on each foot, as well as a metallic bar connecting both feet. The purpose was to hold the baby's feet at 45 degree angles to facilitate further correction of the defect. Having to wear the device for most of every day, the child had difficulty sleeping in his crib and was eventually prevented from learning to walk normally. The parents allege that the boy's socialization has suffered significantly due to his mobility issues and state that his condition has regressed. A tendon transplant may be necessary in the future, adding to the family's trauma.
Allegations concerning Zofran
The plaintiffs in this lawsuit allege that GlaxoSmithKline, the makers of Zofran, have long been aware of the drug's risk of causing birth defects in children of pregnant women who used the medication to battle morning sickness. The allege that reports of skeletal anomalies, cleft lip, clef palate, heart disease and kidney problems were just some of the issues linked to the use of Zofran during pregnancy. Their highly-detailed complaint outlines several studies conducted over the past several years suggesting a connection between the drug and such defects.
In their complaint, the plaintiffs also accuse GlaxoSmithKline for engaging in aggressive "off-label" marketing of Zofran to pregnant patients. Only having received FDA approval to treat nausea in cancer patients, Zofran has become an extremely popular method of treating severe morning sickness in expectant mothers, despite a lack of testing by GSK of the safety of this practice. In fact, it is alleged that animal studies as well as other recently conducted research contradict GSK's safety claims, giving rise to claims of negligence as well as fraud on the part of the drug maker.
Parents seek damage award
Pursuant to their claims of negligence, strict products liability, fraudulent misrepresentation, fraudulent concealment, breach of warranties, failure to warn and violations of New Jersey's Consumer Fraud Act, the plaintiffs in this case are seeking a substantial financial award.
Included in their prayer for relief are requests for compensation encompassing:
General damages

Past, present and future medical bills

Compensatory damages

Punitive damages

Treble damages

Refund of all Zofran purchase costs

Attorney fees
In support of these demands, the parents assert that their child will suffer lifelong physical and emotional effects of his birth defects, and that they themselves have experienced sizable financial losses and emotional distress as a result of their son's condition.