NY Mother Seeks Compensation for Child's Cerebral Palsy Birth Injuries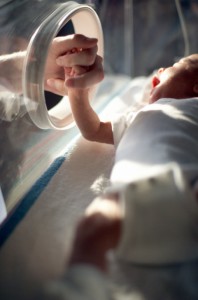 A New York resident, both individually and on behalf of her infant child, filed a Federal Tort Claims action alleging negligent prenatal, obstetrical and medical care.
The plaintiff claims that as a direct and proximate result of the defendant's alleged conduct, her child was born prematurely at 33 weeks and suffered severe and permanent injuries including periventricular leukomalacia and cerebral palsy. Consequently, the boy has been left with weakness in the left side of his body, deficits in fine and gross motor skill and will need intensive occupational and speech therapies for the foreseeable future.
The cerebral palsy lawsuit was filed in the U.S. District Court for the Eastern District of New York on July 2, 2015. The United States of America is named defendant in the suit because the injuries were alleged to be "proximately caused by the negligence, wrongful acts and/or omissions of employees and  servants of the United States of America," including several health care professionals and the Lutheran Medical Center. The defendant doctors provided prenatal and delivery room care to the plaintiffs from June 1, 2008 through November 13, 2008.
Negligent prenatal and obstetric care alleged
The claimant contends that due to her child's severe birth injuries, he has been rendered permanently disabled and has suffered and will continue to sustain mental anguish, emotional distress and a loss of enjoyment of life. It is further alleged that he has been left incapacitated and unable to live a normal life, causing his parents to spend exorbitant sums for ongoing medical and hospital care.
The defendants are accused of medical malpractice in their failure to properly treat the plaintiff and her child and deviating from the accepted standard of medical care.
The suit alleges the following misconduct and negligence:
Failing to diagnose and treat preterm labor
Failing to form a differential diagnosis including partial placental abruption
Administering Pitocin for labor augmentation in a negligent manner
Failing to order a C-section in a timely manner
Failing to perform adequate neonatal evaluations
Negligently managing several stages of labor
Allowing for precipitous fetal descent
Failing to order and perform neonatal brain ultrasound evaluations
Failing to administer necessary and/or indicated treatments properly
Allowing fetal brain injury
Failing to recognize and treat respiratory complications
Failing to diagnose or treat periventricular leukomalacia in a timely manner
The plaintiffs are demanding actual and compensatory damages in their suit, along with legal fees, post-judgement interest and any other compensation which the Court deems proper.
Infant suffers brain damage at birth, causing cerebral palsy
A type of trauma to the brain's white matter, periventricular leukomalacia (PVL) is a common factor in children diagnosed with cerebral palsy. This condition is often associated with intellectual impairment as well as motor skill deficits and spasticity that necessitate physical therapy and rehabilitation.
Other signs of PVL include vision problems, hearing impairment, cognitive disabilities and poor coordination.
The long-term outlook for children with cerebral palsy and PVL depends on the nature and severity of brain damage. For many, they can expect years of physical and speech therapy, as well as treatment for hearing and visual problems.