Stryker Hip Plaintiff Diagnosed with Life-Threatening Injuries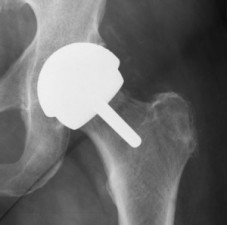 A Louisiana resident and her spouse have filed a Stryker hip lawsuit against Howmedica Osteonics, doing business as Stryker Orthopaedics. Glenda O'Chery and David O'Chery demand a jury trial and compensation in excess of $75,000 for what the lawsuit describes as life-threatening injuries. The plaintiff alleges that the hip implants she received, which were designed and manufactured by the defendants, can lead to organ damage and site-specific cancers.
The lawsuit claims that these implants "represent a continuing health risk to purchasers who received a device whether explanted or not as high cobalt chromium levels have been shown to persist even after explantation of the device."
Stryker Rejuvenate hip lawsuit
According to the Stryker Rejuvenate hip lawsuit, the plaintiff underwent her first surgery on October 5, 2010 at a Louisiana hospital. This surgery involved the removal of damaged or diseased left hip joint and the placement of a Stryker Rejuvenate Modular hip stem. On March 1, 2011, O'Chery underwent her second surgery to implant a Stryker Rejuvenate device in place of her right hip.
Both original surgeries were performed prior to the issuance of an Urgent Field Safety Notice to surgeons and hospitals in the U.S. Stryker issued this notice in April of 2012. It explained that the defendant had received reports that the Rejuvenate model was failing prematurely due to heavy metal contamination. Despite the defendant's acknowledgment of premature failure and severe complications, Stryker waited until July of 2012 to issue a voluntary recall of the Stryker Rejuvenate and ABG II modular-neck hip stems.
Stryker hips and heavy metal toxicity
The Rejuvenate hip implant is a metal-on-metal design. When the patient moves and manipulates the hip joint, the metal components rub against each other, creating friction and releasing metallic ions into nearby tissues and the bloodstream. When cobalt and chromium ions are released into the bloodstream, this condition is known as metallosis or heavy metal toxicity. The complainant's lawsuit alleges that heavy metal toxicity and its effects "can be latent, longstanding, severe, and life-threatening, affecting the central nervous system, heart, kidney, lungs, and other organs."
O'Chery was diagnosed with elevated cobalt and chromium levels on September 25, 2014. She was subsequently diagnosed with other debilitating injuries, including kidney damage, injuries to her legs, decreased balance, decreased mobility, and other unspecified injuries. According to her Stryker hip lawsuit, she never would have agreed to have the Rejuvenate implants placed in her hips if she had known of the serious risks associated with the devices.
The plaintiff demands compensatory damages for her past, present, and future severe pain and suffering, mental anguish and anxiety, mental impairment, disability, loss of enjoyment of life, and residual physical impairment. She also demands compensation for her past, present, and future medical and pharmaceutical expenses. Her spouse demands compensation for loss of consortium.
Was Stryker aware of defective hips?
The plaintiff claims that the defendant was aware of the allegedly defective nature of the Rejuvenate implants. She demands that the defendant be held liable for the unreasonably dangerous construction of the hip implants and for its alleged failure to warn the plaintiff and the healthcare community of the risks associated with the hip implants. O'Chery also lists allegations of breach of express warranty, breach of implied warranty, and negligence.