Parents Blame Child's Heart Defect on Zofran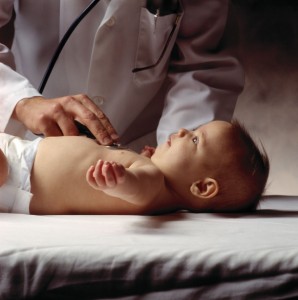 On October 30, 2015, a family from Alabama filed a Zofran lawsuit against GlaxoSmithKline (GSK), claiming that the defendants' medication resulted in their child's birth defects. They demand compensation in excess of $75,000 for past and future medical expenses, as well as other damages.
The lawsuit, which is pending in the U.S. District Court for the Southern District of Alabama, alleges that the defendants engaged in a "fraudulent marketing campaign" and failed to properly warn the plaintiffs that ingesting the medication during pregnancy could increase the risk of birth defects, including atrial septal defect.
About Zofran
Zofran (ondansetron hydrochloride) is a prescription medication known as an anti-emetic. Specifically, it is a selective serotonin 5HT3 receptor antagonist that is intended to relieve nausea and vomiting. Zofran was first approved by the FDA in 1991 for use in cancer patients undergoing chemotherapy or radiation therapy. The medication has never been approved by the FDA for use by pregnant women to treat morning sickness. However, it is not uncommon for healthcare providers to prescribe medications for off-label use, although it is considered unacceptable for a pharmaceutical company to market drugs for off-label use.
Some women have been prescribed Zofran to treat nausea and vomiting during pregnancy, and some of these patients have filed lawsuits against GSK, alleging that the use of Zofran during pregnancy led to serious health problems for their children.
According to this complaint, the mother began using the drug early in her first trimester of pregnancy to relieve her morning sickness. Not long after her child was born in 2013, he was diagnosed with atrial septal defect, a type of congenital heart defect. Atrial septal defect is characterized by a hole in the wall of the heart that separates the atria. The atria are the two upper chambers. It is possible for this type of birth defect to cause significant damage, including damage to the lungs. These patients are more likely to experience a shorter lifespan than usual because of pulmonary hypertension or heart failure. They are also at an increased risk of heart arrhythmias and stroke.
According to the Alabama family's complaint, their minor child's heart condition causes them to "live in fear of what could happen," such as the possibility that the "tissue lining the septal defect will detach and block his arteries, which could be fatal without emergency surgery within the hour." The parents understand that even without the development of complications, their child could require heart surgery.
Lawsuit alleges "fraudulent marketing campaign"
Had the mother known of the serious birth defect risks associated with Zofran, the lawsuit alleges, she never would have taken the drug during pregnancy. The family claims that GSK launched a "fraudulent marketing campaign" allegedly designed to encourage its use among pregnant women, despite the lack of clinical evidence establishing its safety under these circumstances.
The lawsuit further alleges that not only did GSK avoid conducting clinical trials to evaluate potential risks during pregnancy, the defendants allegedly failed to disclose known evidence regarding these risks. The plaintiffs demand compensation and bring counts of negligence and negligent undertaking under Alabama's "Good Samaritan" doctrine against the defendants.