Zofran Allegedly Caused Heart Defect in Toddler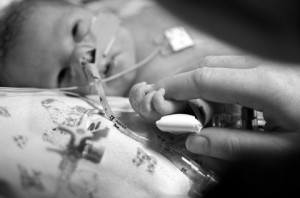 On December 30, 2015, a mother from California filed a lawsuit against the pharmaceutical company GlaxoSmithKline LLC (GSK), claiming that the defendant's anti-emetic medication Zofran resulted in a congenital heart defect in her child following his birth in 2009.
She is demanding compensation in excess of $75,000 "for compensatory and punitive damages, and such other relief deemed just and proper" for injuries sustained by her child that allegedly resulted from Zofran exposure in utero.
According to the lawsuit, the child was born with a heart defect called Tetralogy of Fallot, which developed after the claimant began taking a prescribed, generic equivalent of Zofran to alleviate symptoms of morning sickness that commonly occur during the first trimester of pregnancy.
Zofran lawsuit details
The plaintiff alleges that she would not have taken Zofran had she been properly informed about the health risks affiliated with the drug in question. Furthermore, the lawsuit claims that had her physician been told the truth concerning long-term health issues that affect quality of life, Zofran would have never been prescribed.
The Zofran lawsuit states that the heart defect that the child suffers from has already required surgery, which involved the placement of a shunt when he was one-month-old. Nine months later, the boy underwent a secondary surgery to do "a full surgical repair of his Tertology of Fallot". The suit claims that additional surgeries may be necessary in the future.
The plaintiff is seeking compensation based upon the following causes of action:
Negligence
Fraudulent misrepresentation
Fraudulent concealment
Negligent misrepresentation
Loss of consortium
About Zofran
In 1991, the Food and Drug Administration (FDA) approved Zofran, also known as ondansetron, exclusively for patients who "were afflicted with the most severe nausea imaginable" after undergoing chemotherapy and radiation for cancer treatment. Although the FDA approved Zofran solely for cancer patient usage, GSK marketed their product as a "wonder drug" for pregnant women experiencing morning sickness.
However, despite Zofran's popularity during the 2000s, GSK never once conducted clinical trials to ensure the drug was safe for expectant mothers or their unborn children. Nor did they seek FDA approval for treatment of morning sickness.
The lawsuit claims that GSK tested Zofran on animals in the 1980s and found "evidence of toxicity, intrauterine deaths and malformations in offspring". GSK found that "ingested Zofran readily crossed the human placenta barrier and exposed fetuses" to high levels of the drug. This information was never disclosed to pregnant women or their physicians.
Since 1992, GSK began receiving reports of birth defects caused by Zofran. More than 200 reports have been received to date, contends the plaintiff. In spite of this worrisome development, GSK continues to market and promote the use of Zofran for pregnant women.