MA Jury Awards Family $30M for Brain Injury at Birth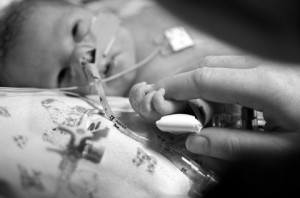 According to a Massachusetts jury, a doctor's negligence caused a Holyoke girl's severe brain injury at birth. The Hampden Superior Court jury awarded the girl's family nearly $30 million on their medical malpractice claim over the birth injury.
The girl's parents, Luis Gallego and Jeanette Gutierrez, of Holyoke, filed the lawsuit in 2011.
They named as defendants six doctors who were involved in their daughter's September 2004 birth. The plaintiffs dismissed one of the doctors as a defendant and the jury found four others, all residents at the time, not negligent. The jury did, however, find Dr. David Seubert liable for medical malpractice. He reportedly did not renew his license in 2011 and now practices medicine in Rochester, New York.
Doctor on call stayed home
The girl, now 11 years old, was born at Baystate Medical Center, which was not a defendant in the case. Her mother arrived at the hospital on September 5, 2004, at 28 weeks pregnant, because the baby's movements had decreased.
Hospital staff admitted her and for the first day, the baby was fine until 5:30 p.m. the second day. But after that, the baby's heart rate dropped and Seubert, who was on call but at home, decided not to come in to the hospital.
The plaintiffs allege that their daughter should have been delivered by C-section immediately but instead the procedure was delayed until 9:20 p.m., after her heart rate dropped extremely low for eight minutes. She was born unresponsive and had to be resuscitated; the lack of oxygen and blood flow caused severe brain injury.
The plaintiffs' complaint accused the defendants of failing to appreciate the ongoing test results that signaled fetal distress and perform a necessary emergency Cesarean section.
The court papers allege that this exposed the baby to worsening infection, oxygen deprivation, and other hazards that caused her brain damage.
Dangers of oxygen deprivation at birth
Birth asphyxia, or oxygen deprivation at birth, can cause temporary or permanent brain injury. When the brain is deprived of oxygen, the improperly functioning cells cannot remove waste products from the blood and the built-up acids cause damage. The amount of damage can vary; some babies who experience asphyxia may recover fully but others who are deprived of oxygen for a longer time may suffer permanent cognitive impairment.
Jury award for child's permanent brain damage
The baby suffered severe, permanent brain damage. She does not walk or talk, is legally blind, and cannot eat so she is fed through a gastric tube. She has a tracheotomy to breathe and it must be cleaned of lung secretions several times an hour. Her parents take care of her at home with the help of nursing services and she has special care and one-on-one teachers at school.
The jury's award of $29.89 million was apportioned:
$1.5 million for the girl's physical and mental pain, disfigurement, and related losses up before the verdict
$10 million for the physical and mental pain, etc., from after verdict until the jury's estimate of her life expectancy (age 84)
$1.04 million for past medical bills
$16.1 million for future care
$1.25 million for the girl's lost earning capacity