Taxotere Complaint Alleges Permanent Alopecia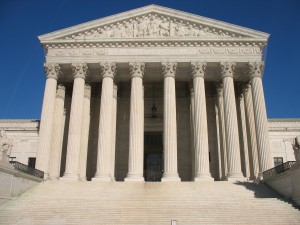 Ami Dodson is suing Sanofi S.A. on grounds of strict products liability regarding the manufacturer's chemotherapy drug Taxotere. According to her suit, neither Dodson nor her treating doctors were aware of or informed of the risks of permanent alopecia that can occur with treatment of Taxotere. As a result of the defendant's acts and omissions, the plaintiff now claims she has suffered serious personal injuries that are debilitating in nature. Dodson is now seeking legal relief from the courts for her economic and non-economic damages, including those for past and future medical expenses, extreme emotional distress; mental pain, suffering, and impairment of the quality and enjoyment of life.
Dodson's Taxotere lawsuit was filed in the United States District Court, Northern District of California, where she is demanding compensation in excess of $75,000.
Mastectomy followed by Taxotere treatment
The lawsuit states that the claimant underwent a breast biopsy in 2010 that revealed a differentiated ductal carcinoma in Dodson's left breast. She subsequently had a partial mastectomy and met with her oncologist to discuss chemotherapy treatments. Her healthcare provider, according to allegations, was not provided with any information regarding the adverse side effects of Taxotere, including risk of permanent hair loss.
After getting FDA-approval in 1996, Sanofi marketed their chemotherapy drug aggressively, claiming that Taxotere was much more effective compared its primary competitor, Taxol. The complaint contends that such claims were unsubstantiated, as a 2008 study published in the New England Journal of Medicine found that Taxol was actually more effective than Taxotere for patients undergoing standard chemotherapy. These false and misleading marketing claims spurred regulatory action by the FDA, which in 2009 sent a letter to Sanofi-Aventis admonishing the company for misbranding its product in violation with the agency's Division of Drug Marketing, Advertising, and Communications.
Despite this warning letter, Sanofi managed to increase Taxotere sales in the U.S. from $424 million in 2000 to an estimated $1.4 billion in 2004.
Claims of misleading and fraudulent marketing
Alopecia, or hair loss, is a common if not expected side effect of chemotherapy treatment. Once the therapy is stopped, most patients look forward to regain normalcy and re-growing their hair. Patients who were administered Taxotere for breast cancer treatment were not always so fortunate, as was the case with Ami Dodson. Sanofi is charged with misleading the public and the medical community in regards to the safety of Taxotere. Health care providers and patients were swayed to believe that their hair would grow back once treatment was discontinued. 
Permanent baldness – particularly for women – can cause great mental anguish and psychological damage. Plaintiffs like Dodson argue that this disfiguring condition would be marginally more acceptable if there were no other chemotherapy treatments available. In contrast, there were several other cancer treatments on the market that were at least as effective as Taxotere, but that did not subject female patients to permanent alopecia risks.
Sanofi aware of hair loss risks, lawsuit claims
The complaint cites the GEICAM 9805 study, which found that 9.2 percent of patients who took Taxotere had persistent alopecia for up to 10 years, and in some cases longer. It is alleged that Sanofi and partners knew of these results as early as 2005, yet willfully concealed this data from physicians, health care professionals and consumers in the United States. The only warning on the product label was vague, stating that "hair generally grows back" after taking Taxotere.
Sanofi is accused of recklessly misrepresenting the dangerous and serious health concerns of Taxotere to the public at large, and to the plaintiff.
In addition to seeking actual damages against the defendant, Dodson is requesting special damages, treble damages, expert witness fees, attorney costs and any other relief that the court deems proper.