J&J Loses Second Talc Cancer Trial, Ordered to Pay $55 Million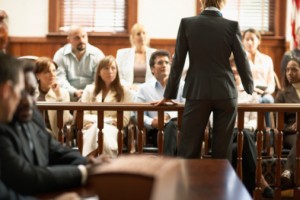 Plaintiff Gloria Ristesund says she was gratified with her $55 million talcum powder verdict, handed down by Missouri state jurors on May 2, 2016. The verdict marks the second straight loss for pharmaceutical giant, Johnson & Johnson, which is facing more than 1,200 other complaints involving its talc-based products Baby Powder and Shower to Shower. In February of this year, the company was ordered to pay a $72 million award to the family of Jacqueline Fox, who died from ovarian cancer after decades of using J&J's talcum powder for feminine hygiene.
According to her complaint, Ristesund, age 62, was diagnosed with ovarian cancer after 'decades' of using the defendant's talc powder products in the genital area to help stay fresh and clean. After developing ovarian cancer, Ristesund was forced to have a full hysterectomy and other operations. She is now in remission.
J&J loses second straight lawsuit
Now that Johnson & Johnson has lost two consecutive cases in Missouri state court where much of the talc litigation is pending, there are speculations that the company may be compelled to settle lawsuits rather than litigate each separately. After the $55 million verdict was rendered, J&J shares plummeted 18 cents in after-hours trading to $112.57.
Most of the talcum powder lawsuits, which are pending in New Jersey and Missouri state courts, contain similar accusations of negligence, fraud and deceit. J&J is charged with failing to adequately warn the medical community and consumers that talc has been associated with an increased risk for cancer when used near the perineal area. Over the past two decades, numerous studies have demonstrated a causal link between talc and ovarian cancer, yet J&J took no measures to alert women of this risk.
One notable study, published in the Cancer Prevention Research journal in 2013, found that women who used talc products for feminine hygiene had a 20 to 30 increased risk of developing ovarian cancer compared to those who did not use the products.
Jurors find for plaintiff after one day of deliberations
At the conclusion of the three-week trial for Gloria Ristesund, it only took jurors one day of deliberations before they handed down their verdict, finding that the defendant's products had likely contributed to Ristesund's ovarian cancer. "After we agreed on that, everything was easy," the jury forewoman told Bloomberg.  "We felt like they knew for decades that they should have put a warning on this product." 
A spokesperson for J&J said the judgement contradicts three decades worth of research that supports the safety of talc for cosmetic uses. The company plans to appeal and continue defending the safety of Baby Powder and Shower to Shower.
In addition to possible settlement talks, this second trial loss for J&J could trigger a wave of new talc lawsuits being filed in courtrooms across the country.
"This second jury verdict affirms that Johnson & Johnson knew that its talcum powder products posed a risk to women's health, but they did nothing to warn the public," said lead counsel for Gloria Ristesund.