AndroGel Maker Hit with $150 Million in Punitive Damages at Trial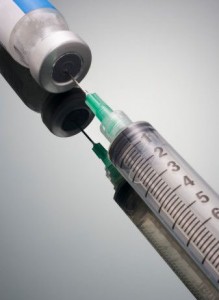 The maker of testosterone enhancer AndroGel is legally liable for concealing the risk of heart attack, according to the results of a recent case. Abbvie Inc. was ordered to pay $150 million in punitive damages because it did not represent AndroGel's safety profile accurately to doctors and patients.
The plaintiff, 54-year-old Jesse Mitchell of Oregon, began a regimen of AndroGel in 2008. He had a heart attack in 2012. His lawsuit alleged that Abbvie hid the fact that AndroGel could cause blood clots, which can lead to heart attacks. Abbott Labs was also named in the suit. Abbvie spun off from Abbott four years ago.
Jury awards zero compensation for plaintiff's injuries
Despite Mitchell's win, however, the jury did not award him any compensation, either for hospital bills or pain and suffering. His suit alleged negligence and strict liability in addition to concealment of safety concerns. The jury ruled against the first two claims, upholding only the claim that Abbvie's safety representations were fraudulent.
Such a move is unusual, and calls into question the punitive damage award. Bloomberg noted that the punitive damages may be overturned, because United States Supreme Court cases have established that punitive awards need to be founded on actual damages. Without evidence of such damage, the punitive damages can be judged unreasonable.
An Abbvie spokesperson told Bloomberg that the company did not expect the punitive damage award to be ultimately upheld.
Abbvie's attorneys contended that the plaintiff's heart attack was due to his history of being overweight and having elevated cholesterol, in addition to several decades of smoking.
More testosterone therapy lawsuits awaiting trial
AndroGel was approved by the United States Food and Drug Administration six years ago for treatment of hypogonadism, a condition in which men suffer from a severe testosterone deficit. It was never approved for treatment of the natural decline that accompanies aging.
The FDA heightened the safety risk warnings after research found that testosterone replacements had the potential to hike heart attack risks by nearly 30%.
The plaintiff's lawyers argued that AbbVie paid no attention to studies showing heightened risk of cardiac incidents and never began research into the association of cardiac issues with AndroGel use. AbbVie has consistently said that AndroGel is not a factor in increasing the chance of blood clots.
The company began a campaign 5 years ago to market AndroGel for "low T," or low testosterone. The campaign suggested that the drug could relieve poor energy and reduced sexual drive.
The medication has been linked to fatal heart attacks in four cases to date. Testosterone therapy lawsuits involving AndroGel have been centralized before U.S. District Judge Matthew Kennelly. They maintain that AbbVie and other testosterone-replacement drug makers either concealed or minimized the clot risk associated with the products and aggressively marketed the products in violation of Federal law.
More on $150 million AndroGel jury award:
Bloomberg, 

AbbVie Ordered to Pay $150 Million Damages in 'Low-T' Trial, 

https://www.bloomberg.com/news/articles/2017-07-24/abbvie-ordered-to-pay-150-million-damages-in-low-t-trial
Chicago Tribune, AbbVie must pay $150 million over testosterone drug, jury decides, http://www.chicagotribune.com/business/ct-abbvie-androgel-decision-0725-biz-20170724-story.html