Settlement Possible for Hundreds of Testosterone Therapy Lawsuits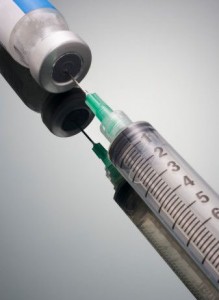 Although the news is yet to be confirmed, reports have surfaced of a possible settlement agreement between Testim lawsuit plaintiffs and the defendants, Auxilium Pharmaceuticals, Endo Pharmaceuticals, and GlaxoSmithKline (GSK). If true, the settlement would resolve over 1,300 pending cases in the multidistrict litigation (MDL). In total, the mass litigation centralized over 6,000 federally filed lawsuits brought against the makers of testosterone replacement therapy products by patients who allege the products caused life-threatening medical complications.
Alleged medical risks of testosterone therapy products
Testosterone therapy products are marketing to men who feel they are experiencing the effects of low testosterone levels. With age, testosterone levels naturally decline, and some men may experience low testosterone, or low-T, prematurely. Some of the possible signs of low-T include lack of energy, poor sex drive, weight gain, difficulty losing weight, and muscle loss. Since these are all fairly vague symptoms that may be caused by a number of health issues, doctors will generally run a clinical test for testosterone levels before prescribing hormone replacement products.
However, the men who filed Testim lawsuits allege that the defendants were overly aggressive in marketing the products, and failed to adequately disclose the potential risks. Testosterone replacement products have been linked to several medical complications, some of which can be life-threatening. These include: Stroke, heart attack, pulmonary embolism, and deep vein thrombosis (DVT).
The Testim plaintiffs argued that the defendants put profits ahead of patient safety. The Testim gel was originally developed in 2002 by Auxilium, and co-marketed by GSK in 2012. Endo Pharmaceuticals acquired Auxilium in 2015. The acquisition was valued at $2.6 billion.
Next steps in the mass litigation
Typically, after the discovery process for an MDL has been completed, the court schedules a series of bellwether trials. These are initial cases heard and decided by a jury, and they are microcosms of the overall trends in litigation. Bellwether trials allow all parties to gauge the effectiveness of testimony and physical evidence, and to assess how juries are likely to respond in future trials.
But since hundreds of cases may be resolved with a settlement, the court has ordered a stay of proceedings for 45 days. This halts trial efforts while the parties work on finalizing a master settlement agreement. Before news of the settlement broke, the first bellwether trials in this MDL had been scheduled for April 6 and September 10, 2018. These have now been vacated.
Other trends in testosterone therapy litigation
The lawsuits filed with regard to Testim gel are just some of the thousands of testosterone therapy lawsuits. Other manufacturers have also produced their own products, including Axiron, made by Eli Lilly, and Androgel, made by AbbVie. Eli Lilly and the Axiron plaintiffs recently announced a settlement agreement to resolve their cases. The terms of the deal have not been disclosed.
If the Testim gel settlement is finalized, these two global settlements would resolve about one-third of all federally filed testosterone therapy lawsuits in the MDL. It's expected that AbbVie may consider a settlement arrangement next, given that the defendant has already been found liable for millions during the first two bellwether trials for Androgel lawsuits. One of those awards has been overturned, and is scheduled for a retrial.
Additional Resources:
WebMD, Low Testosterone Therapy: Risks and Benefits, https://www.webmd.com/men/features/low-testosterone-therapy-risks-benefits#1
Harvard Medical School, Is testosterone therapy safe? Take a breath before you take the plunge, https://www.health.harvard.edu/mens-health/is-testosterone-therapy-safe-take-a-breath-before-you-take-the-plunge