Xarelto Side Effects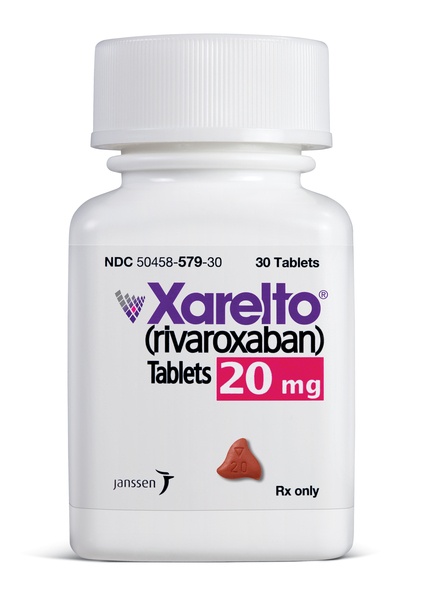 Xarelto (rivaroxaban) is a blood thinner that prevents the formation of blood clots in patients with non-valvular atrial fibrillation. Medical professionals may prescribe the anticoagulant to reduce the risk of stroke in a patient with non-valvular atrial fibrillation, reduce the risk of deep vein thrombosis or pulmonary embolism, or prevent deep vein thrombosis following knee or hip replacement surgery. However, a number of serious Xarelto side effects have been reported in recent years – including, but not limited to, life-threatening bleeding episodes.
Xarelto is part of a "new class" of drugs that includes Pradaxa and Eliquis that have been heavily marketed as better alternatives to Coumadin (warfarin) because they do not require frequent dose monitoring, blood tests, or dietary restrictions. Since gaining FDA approval in 2011, manufacturer Bayer and marketer Janssen Pharmaceuticals have sold more than 1.4 million prescriptions world-wide.
Xarelto side effects include uncontrolled bleeding
The ROCKET AF Trial found that the most frequent adverse reaction associated with discontinuing Xarelto were bleeding events. The incidence rate was 4.3% for Xarelto, compared to 3.1% for warfarin.
Out of more than 16,000 patients exposed to Xarelto, there were:
395 major bleeding events
221 incidents of gastrointestinal bleeding
183 bleeding events requiring blood transfusions
91 instances of bleeding into a critical organ
27 bleeding-related fatalities
The first Xarelto bleeding lawsuit was filed in early 2014
A watchdog group, The Institute for Safe Medicine Practices, reported that more than 350 instances of "serious, disabling or fatal injuries" involving Xarelto have been formally submitted to the U.S. Food & Drug Administration, and that Xarelto was the 10th "most frequent suspect drug in serious or fatal adverse events in 2012." Last year, they found that the number of serious adverse events linked to Xarelto have overtaken those for Pradaxa – a comparable drug, which is in the midst of $650 million settlement talks to resolve about 4,000 lawsuits alleging serious bleeding events.
A representative from Bayer told the Wall Street Journal that, "The risk of bleeding, a known side effect for all blood thinners, is clearly highlighted in the warnings and precautions of the Xarelto prescribing information."
While the risk may be known, what was not clear for a long time was that there was no antidote should uncontrolled bleeding occur. By comparison, the manufacturers of Coumadin have counseled medical providers on a suggested remedy to reverse the effects of their drug, should bleeding occur.
Who is at risk for Xarelto bleeding?
Researchers from the ROCKET AF Trial concluded that certain risk factors led to an increased risk in uncontrolled Xarelto bleeding, including patients with:
Male gender
Increased age
Mild anemia
Current or prior smoking
Prior gastrointestinal bleeding
Lower calculated creatinine clearance
Baseline diastolic blood pressure of ≥90 mm Hg
Long-term use of the drug
History of chronic obstructive pulmonary disease
Prior acetylsalicylic acid use
Other Xarelto side effects
According to RXList.com, non-hemorrhagic adverse reactions found in the EINSTEIN Extension study participants included:
Upper abdominal pain
Dyspepsia
Toothache
Fatigue
Sinusitis
Urinary tract infection
Back pain
Osteoarthritis
Mouth and throat pain
Though rare, some Xarelto users have required emergency care for coughing up blood, dizziness, weakness, sudden loss of movement in a limb, yellowing of the skin, painful or swollen wounds, discolored urine, black tarry stools, and/or irregular heartbeat.
Two serious warnings appear on the Xarelto label:
Discontinuing Xarelto in patients with non-valvular atrial fibrillation increases the risk of stroke.
Patients treated with Xarelto while receiving epidurals or spinal taps have suffered long-term paralysis.
Drug interactions with Xarelto
Antifungal, HIV and seizure medications have all been known to interact with Xarelto.
Xarelto should not be combined with drugs such as:
Ketoconazole, ritonavir, clarithromycin, erythromycin and fluconazole (which were found to increase the bleeding risk)
Rifampicin, phenytoin, carbamazepine, and St. John's Wort (which decreased the effectiveness of the drug by up to 50%)
Diltiazem, verapamil, dronedarone, and erythromycin (which increase exposure to Xarelto by inhibiting normal renal function and therefore increase bleeding risk)
Over-the-counter NSAIDs like aspirin (which increase bleeding risk with as little as one dose)
Who should be most concerned about Xarelto side effects?
Xarelto use should be discussed with a doctor, but generally, it is not recommended for people who have:
An artificial heart valve
A history of active or uncontrolled bleeding
A genetic spinal defect, history of spinal surgery, or the need for repeated spinal taps
The need to take aspirin, ibuprofen, naproxen or other NSAIDS regularly
Prescriptions for other medications to treat or prevent blood clots
A genetic bleeding disorder
Uncontrolled blood pressure
Stomach or intestinal bleeding and/or ulcers
Liver or kidney disease
Women who are pregnant, nursing, or trying to conceive should not take Xarelto because its effects have not been studied on this population, and this medicine could cause bleeding complications during labor.
Should patients stop taking Xarelto?
Ultimately, the decision to start or stop taking Xarelto is up to the individual and his or her doctor. Patients who experience Xarelto bleeding have no choice but to cease taking the drug; but, generally speaking, all blood thinners are considered a "high risk, high reward" type of drug. As Dr. Manesh Patel from the Duke University School of Medicine put it: "No matter what drug they are on, patients who need anticoagulation revert back to their intrinsic risk of stroke and embolism after discontinuation, so it shouldn't be done lightly."
Patients who have experienced serious complications because of internal bleeding following Xarelto use, or who have lost a loved one due to Xarelto side effects, are consulting Xarelto lawyers to determine if they are eligible to seek financial compensation via product liability litigation.