Judge Rejects Defendant's Argument in Stryker Hip Implant Lawsuit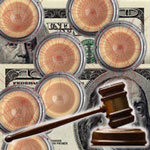 A Stryker hip implant lawsuit filed in Indiana continues to progress after the judge overseeing the case denied a request by one of the defendants to dismiss the case. The lawsuit was originally filed By Darlene Gray in the Superior Court of the State of Indiana. The case was transferred to U.S. District Court for the Southern District of Indiana, where it is currently overseen by Judge Tanya W. Pratt. Gray received her Trident hip replacement device in August, 2005, and began experiencing complications from her hip a short time later, including popping, squeaking, and ongoing pain. Gray eventually underwent hip revision surgery to remove and replace the faulty implant.
Defendant lists reasons for dismissal of Stryker hip implant lawsuit
Gray's original complaint listed only Stryker Corp. as a defendant. The plaintiff amended her original complaint to include Howmedica Osteoncics Corp., which also conducts business as Stryker Orthopedics Inc. Howmedica has been named on other lawsuits involving the Trident hip implant.
Howmedica stated in their request that Gray's allegations are barred by the Medical Device Act. This act preempts claims against class III devices, like the Trident hip replacement listed in Gray's lawsuit. Class III devices are subject to a vigorous premarket approval process, a fact that is not included in Gray's amended complaint.
Howmedica also asserts in their request for dismissal that Gray did not specify in her complaint whether her injuries were a result of manufacturing defect or physician error. She did not specifically list the components of the device that led to her injuries. The defendant argued that Gray also failed to offer details of the FDA's findings on the device or the Stryker Trident recall that was issued in 2008.
Judge counters defendant's arguments
Judge Pratt countered Howmedica's arguments, stating Gray sufficiently alleged a manufacturing defect to avoid Medical Device Act preemption. Although Gray made no specific allegations of federal law violations, Judge Pratt determined that the plaintiff did clearly allege that complications were due to manufacturing defect and lack of quality control in the manufacturing process. Judge Pratt explains that Gray's complaint "puts defendants on notice that her claims are premised upon allegations that some federal law or regulation was violated."
Judge Pratt also states in her decision that Gray has shown in her complaint that the Stryker Trident recall was based on the FDA's findings that the device was not manufactured properly. The recall was issued after the agency received multiple complaints about specific components in the Trident hip implant that led to complications like pain, squeaky joints, bone fractures and metal poisoning. The recall was issued after the FDA sent two warning letters to Stryker, citing manufacturing problems in their facilities in Ireland and New Jersey.
Judge Pratt also rejected a final request for dismissal by Stryker Corp., based on the company's assertion that it was not the designer, manufacturer or seller of the Trident hip implant device. The Judge ruled that assertions made by the plaintiff as to Stryker's association with the device must be construed as true at this stage of the litigation process. With Judge Pratt's decision officially on record, Gray's Stryker hip implant lawsuit is set to proceed through the legal process.