Actos Maker Sued by Blue Cross/Blue Shield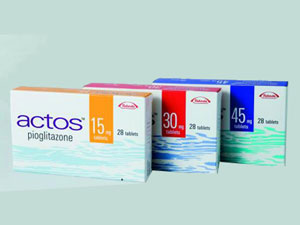 According to Harris Martin, Takeda is facing new legal action from Blue Cross and Blue Shield of Massachusetts Inc. The lawsuit is attempting to secure damages for claims paid out by the healthcare providers to patients who were diagnosed with bladder cancer after taking the diabetes medication.
The complaint levels charges of violation of Massachusetts business practices laws, fraud, negligence, breach of implied and express warranties, and negligent misrepresentation against Takeda Pharmaceuticals, which is already embroiled in product liability litigation involving Actos and bladder cancer.
Takeda Pharmaceuticals sued by Blue Cross and Blue Shield
"Despite its knowledge of this dangerous side effect that can result from Actos use, Takeda refused to warn patients, physicians and the medical community about the risk of bladder cancer," asserts the lawsuit filed Blue Cross/Blue Shield. "Consumers, including plaintiffs' insureds, who have used Actos for treatment of type II diabetes have several alternative safer products available to treat the conditions and have not been adequately warned about the significant risks and lack of benefits associated with long-term Actos therapy."
The Actos lawsuit further alleges that insured customers of the plaintiffs incurred serious physical pain and suffering resulting from their bladder cancer, adding that "Plaintiffs made payment for the injuries sustained by its insured members as a direct result of the wrongful conduct of the defendants."
Studies illustrate link between Actos and bladder cancer
Actos (generic name: pioglitazone) was approved in 1999 by the FDA to treat adult patients who suffer from Type 2 diabetes mellitus. The drug is often recommended in conjunction healthy diet and exercise to stabilize blood glucose levels. Since then, numerous studies on cancer diagnoses attributed to pioglitazone exposure have shown a definitive correlation. Actos was banned in both France and Germany after the European Medicines Agency found that patients taking the drug showed a significantly elevated risk for bladder cancer with prolonged usage.
Health regulators in the United States have expressed similar concerns over the potential risks of Actos ingestion and at high doses. In 2011, the FDA published a safety communication stating that patients who took Actos or pioglitazone-containing medicines for 12 months or longer were at an increased risk for developing bladder cancer.
The Blue Cross claim against Takeda also mentions a prominent 2011 study, which examined the connection between anti-diabetic medicines and bladder cancer through reviewing  reports logged in the FDA's Adverse Event Reporting System from 2004-2009. In the five year period, the researchers discovered 31 incidents of bladder cancer in patients who took pioglitazone. The study authors concluded that the findings suggested Actos carried a "definite risk."
Common allegations in Actos lawsuits
Accusations made by Blue Cross and Blue Shield of Massachusetts echo those of thousands of injured patients who are now suing Takeda after being diagnosed with bladder cancer. Claimants contend that the drug manufacturer had access to results from clinical trials dating back more than 10 years, which indicated the carcinogenic effect of Actos in animals.
Though litigation is taking place nationwide on both federal and state levels, thousands of similar complaints have been coordinated before District Judge Rebecca Doherty as Actos multidistrict litigation. There are an estimated 2,700 claims alleging bladder cancer from Actos use that are currently pending in Louisiana federal court – site of the Actos MDL.
Nearly two months ago, federal jurors in the MDL handed down a $9 billion punitive judgment against Takeda and Elli Lilly. Attorneys for the defendants say they plan to appeal the verdict.