Takeda – Maker of Actos
Takeda Pharmaceutical Company first introduced Actos, a type 2 diabetes medication, to the U.S. market in 1999. Since then, the company has generated great success with the medication  – Actos is one of the best-selling drugs in the United States, and grossed $4.6 billion in 2008 – and also great controversy. Users have reported serious and life-threatening Actos side effects, including heart failure and bladder cancer, and as a result have filed an estimated 3,000+ Actos lawsuits against the manufacturer.
Background on Takeda Pharmaceutical Company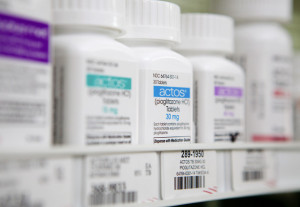 Takeda Pharmaceutical Company Limited began in 1781 as a medicine shop in Osaka, Japan. In 1871 the shop was upgraded to a cooperative union, at which time it began to incorporate Western medicine. In 1895, the union purchased its first factory and over the next three decades, the cooperative grew; by 1925, the little medicine shop had become known as Chobei Takeda & Company Limited and was worth an estimated $1 million.
In the 1940s, Takeda manufactured primarily vitamin B and penicillin. Business was good, and in 1949 the company went public; Takeda was traded on both the Osaka and Tokyo stock exchanges. The company continued to flourish, growing at an incredible rate of up to 20 percent between the years 1956 and 1970.
In 1985, Takeda began to market pharmaceuticals in the United States. The first drug was Lupron, a cancer-fighting agent that later became Lupron Depot and then Prevacid (lansoprazole) – the medication that was largely responsible for Takeda's expansion into Europe and the United States. In 1998, the U.S. subsidiary of  Takeda Pharmaceuticals was founded. Today, Takeda is one of the top 15 pharmaceutical companies in the United States. Much of the company's stateside success is owed to Actos, a diabetes medication that grossed $3.4 billion in 2011.
Drugs manufactured by Takeda
Takeda Pharmaceuticals manufactures several drugs, from the blockbuster Actos to other lesser-known medications:
Actos (Pioglitazone Hydrochloride): Type 2 Diabetes
Colcrys (Colchicine): Hyperuricemia and Gout
Dexilant (Dexlansoprazole): Acid Reflux Disease
Omontys (Peginesatide): Anemia Due to Chronic Kidney Disease
Prevacid (Lansoprazole): Peptic Ulcers
Rozerem (Ramelteon): Insomnia
Uloric (Febuxostat): Hyperuricemia and Gout
Velcade (Bortezomib): Multiple Myeloma
Takeda and Actos
As Actos soared in popularity, so did reports of serious side effects. In fact, studies in the U.S. and abroad showed that some Actos users had developed life-changing complications, including bladder cancer and Actos-related heart failure. Resulting lawsuits placed responsibility on both Takeda Pharmaceuticals and Eli Lilly, the company that helped Takeda market and sell Actos in the United States. As of 2013, it is expected that Takeda may be forced to defend its product and actions in up to 3,000 Actos lawsuits within the U.S. alone.
The U.S. patent for Actos expired in August 2012, making way for the entrance of generic drugs (Pioglitazone Hydrochloride). To combat falling profits, Takeda Pharmaceuticals prepared a new diabetes drug, alogliptin, to replace blockbuster Actos. The company, however, failed to gain FDA approval in time. Alogliptin finally received FDA marketing approval in January 2013. Takeda is also in the process of developing a weight-loss drug and another diabetes medication, currently known as TAK-875.
Actos timeline
July 15, 1999: Actos receives FDA approval for sales within the United States. Takeda markets Actos as a superior diabetes drug, offering the benefits of its successful predecessor, Avandia, but none of the risks, including heart failure.
October 8, 2005: Results from the PROactiveStudy (PROspectivepioglitAzone Clinical Trial In macroVascular Events) show that Actos users had a higher rate of bladder cancer than patients taking other diabetes drugs. This information is not published in the original study.
2006-2009: Amid reports of life-threatening Actos side effects, France begins collecting user data from patients on the medication.
August 14, 2007: The FDA issues a Safety Alert for Actos and Avandia, requiring Takeda Pharmaceuticals to add a black-box warning, "to emphasize that pioglitazone may cause or exacerbate heart failure, particularly in certain patient populations."
2008: Actos sales soar, and the drug becomes the 10th-most prescribed medication in the U.S. Worldwide, Actos sales hit $4.6 billion.
January-October 2010: According to the FDA, 2.3 million American patients file prescriptions for Actos or drugs with the same formulation.
June 2010: Former Takeda employee and safety consultant Helen Ge files a whistleblower lawsuit under the False Claims Act. The U.S. Government serves as plaintiff and Takeda Pharmaceuticals Company as defendant. The lawsuit claims that cases of congestive heart failure, as it relates to Actos, "were not properly identified or reported in the FDA's safety database."
August 24, 2010: Circulation: Cardiovascular Quality and Outcome Journal publishes a study revealing the elevated risk of acute heart failure and heart attack in patients taking Actos and Avandia.
September 17, 2010: The FDA announces that it is conducting a safety review into Actos exposure and the increased risk of bladder cancer. The FDA does not make a definitive statement about the link between Actos and bladder cancer, but indicates that it will analyze data from an ongoing 10-year study into the drug and its link to bladder cancer.
June 9, 2011: The European Medicines Agency (EMA) publishes the results of a French Medicines Study into Actos side effects; the agency suspends Actos sales.
June 10, 2011: Actos is banned in France and Germany.
June 15, 2011: The FDA warns consumers that the, "use of the diabetes medication Actos (pioglitazone) for more than one year may be associated with an increased risk of bladder cancer." The federal agency requires updated warning labels, and cautions medical professionals against prescribing Actos to patients with a history of bladder cancer.
August 4, 2011: The FDA issues an Actos warning to consumers warning linking higher risk of bladder cancer to use of Actos for more than one year.
December 2011: Bloomberg Businessweek reports that Takeda Pharmaceuticals may face 10,000 Actos lawsuits.
December 29, 2011: The U.S. Judicial Panel on Multidistrict Litigation (JPML) establishes Actos multidistrict litigation against Takeda Pharmaceuticals – MDL 2299, headquartered in the U. S. District Court for the Western District of Louisiana under the honorable Judge Rebecca F. Doherty.
May 31, 2012: The British Medical Journal (BMJ) publishes a study that shows the risk of bladder cancer in Actos patients doubles for people who take the drug for more than two years and have a cumulative dose greater than 28,000 mg.
June 11, 2012: The Archives of Internal Medicine publishes a study linking Actos, Avandia and other thiazolidinedones to macular edema; the study found the condition present in 1.3 percent of Actos and Avandia patients, versus 0.2 percent of people who didn't take either drug.
July 13, 2012: The first Actos MDL trial is set for November 3, 2014. The second trial is scheduled for July 8, 2015.
August 9, 2012: The Journal of the National Cancer Institute publishes a study that shows evidence of higher bladder cancer risk in patients taking TZDs, including Actos, for more than five years.
August 17, 2012: The FDA approves a generic version of Actos, to be manufactured by Mylan Pharmaceuticals in 15 mg, 30 mg and 45 mg doses.
Litigation against Takeda
In addition to Actos lawsuits consolidated in federal MDL No. 2299, Takeda Pharmaceuticals faces many claims filed in state court and others not centralized in multidistrict litigation. Several Actos trial verdicts awarding millions of dollars in damages to plaintiffs have been overturned in state courts; the first MDL trial is expected to begin in January 2014.
Takeda also reports lawsuits against the company involving serious side effects from Prevacid, including increased risk of bone fractures; increased risk of cardiac events following a heart attack; and adverse interactions with Plavix. In addition, the company has been involved in litigation involving price discrepancies between average wholesale prices (AWP) and actual selling prices.