Byetta Settlements Update: 84 Cases Resolved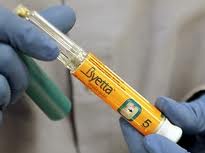 AstraZeneca, the global biopharmaceutical company, disclosed in their second quarter financial report last week that while it has resolved 84 Byetta lawsuits pending in California, it still faces over 400 lawsuits in various state and federal courts nationwide.
The Byetta lawsuits allege that former users of the diabetes drug were not apprised of the dangers of using Byetta and consequently developed pancreatic cancer, pancreatitis, or thyroid cancer.
The lawsuits pending in the federal court system are currently consolidated as part of a multidistrict litigation (MDL) in US District Court in the Southern District of California before U.S. District Judge Anthony Battaglia.  Since the allegations in the remaining lawsuits are so similar, the MDL is in place to reduce the time spent on duplicative discovery and conflicting pretrial rulings from different judges. In addition to the Byetta lawsuits, the 460-case MDL also includes Januvia, Janumet, and Victoza lawsuits in which plaintiffs allege they developed pancreatic cancer after taking those similar diabetes medications.
The pancreatic cancer lawsuits have been filed against the makers of all four drugs following a number of studies that linked side effects of Januvia, Janumet, Byetta and Victoza to an increased risk of pancreatitis, which plaintiffs allege causes the development of pancreatic cancer in many cases.
These four medications fall into a class of medications known as incretin mimetics which work by mimicking the incretin hormones the body usually produces to naturally stimulate the release of insulin in response to a meal. All of the complaints raise similar allegations that inadequate warnings were provided about the potential side effects of this class of diabetes drugs.
Byetta settlements also sought in thyroid cancer lawsuits
Byetta (exenatide) was the first member of the incretin mimetic class approved by the FDA, introduced by Amylin Pharmaceuticals in 2005 as a twice daily injection. Bydureon is an extended-release version of Byetta. Victoza (liraglutide) is a similar injectable diabetes drug introduced by Novo Nordisk in 2010 as a longer-acting daily injection.
Previous studies found that use of Victoza may increase the risk of thyroid cancer, which resulted in warnings being placed on that medication at the time it was introduced onto the market. Plaintiffs in the Byetta thyroid cancer lawsuits allege that similar warnings should have been placed on this older medication, which has a similar mechanism of action and has also been linked to a large number of reports involving thyroid cancer diagnosis following long-term use.
About 55 Byetta thyroid cancer lawsuits are also pending against AstraZeneca, which are excluded from the MDL proceedings. The plaintiffs in those cases allege that the Byetta warning label should mention the potential risk of thyroid cancer, which has been added to the label for Victoza.
Bellwether trials may lead to future settlements
As hundreds of Byetta, Januvia, Janumet , and Victoza lawsuits continue to move forward, the federal judge presiding over the litigation recently laid out key dates for discovery into common issues surrounding the link between use of the diabetes drugs and the development of pancreatic cancer.
Judge Battaglia indicates that depositions of custodians will commence on September 2, and to be completed by October 14. Plaintiff's disclosure of experts and their reports must be filed and served by November 17, with defendants having a December 17 deadline. Plaintiffs have until January 30, 2015 to file rebuttal reports and all depositions of experts must be completed by March 6, 2015.
Ultimately, it is expected that Judge Battaglia will schedule a series of early trial dates involving the different diabetes drugs, known as bellwether trials. While the outcomes of these trials will not be binding in other cases, they are designed to help the parties gauge how their respective evidence and testimony will play out in front of a live jury. The bellwether trials may also be a useful precursor to facilitating Januvia and Byetta settlements if both parties are agreeable.