Januvia & Byetta – How They Work, Warnings, Side Effects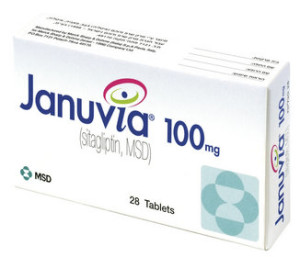 Januvia (sitagliptin phosphate), type 2 diabetes medication made by Merck & Co., first received FDA approval in October 2006. At the time, Januvia was the first DPP-4 inhibitor drug approved in the United States; today, the DPP-4 drug class has grown to include other new diabetes medications both on the market and in development. Januvia has been linked to serious side effects, including an increased risk of pancreatits, pancreatic cancer, and thyroid cancer. Janumet, a similar variation by Merck composed of sitagliptin and metformin, was introduced in 2007.
In the short time that these medications have been on the market, Januvia lawsuits against Merck have emerged alleging that the company delayed important clinical trials and safety tests which may have exposed more patients than necessary to the risk of severe and life-threatening side effects.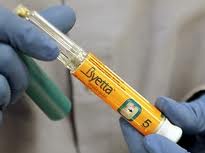 Byetta (exenatide injection), a diabetes drug made by Eli Lilly/Amlyn Pharmaceuticals, gained FDA approval in 2005 and is administered via injection twice a day. Exenatide belongs within the class of medications known as "glucagonlike peptide-1 receptor (GLP-1) agonists."  It also available in a once-weekly injection under the name Bydureon. Exenatide may be taken in conjunction with sitagliptin to manage type 2 diabetes. Like Januvia & Janumet, Byetta & Bydureon have been linked to pancreatitis as well both thyroid and pancreatic cancers.  Lawsuits filed by the afflicted and their families raise similar allegations as in Januvia litigation including  failure to warn about known risks.
How does Januvia work?
Januvia, or sitagliptin phosphate, is a member of the dipeptidyl peptidase 4 inhibitor drug class, also known as DPP-4 inhibitors, or gliptins. Januvia and other DPP-4 inhibitors help control diabetes and high blood sugar by inhibiting dipeptidyl peptidase 4 (DPP-4), an enzyme that can reduce insulin production. By inhibiting DPP-4, Januvia allows a patient to produce more insulin and thus regulate blood sugar. Januvia was the first of this new class of prescription drug to reach the market.
How does Byetta work?
Byetta controls blood sugar by allowing the pancreas to produce insulin more efficiently. By mimicking the release of incretin hormones in the body, it increases the production of insulin after meals while lowering the amount of glucose produced by the liver. Finally, the medication also slows the rate at which food is emptied from the stomach, thereby slowing down the rate of glucose entry into the bloodstream.
A more controversial use of Byetta is for the promotion of weight loss.  Diabetics are often encouraged to lose weight as a means of controlling blood sugar, and the prospect that the medication may facilitate that end has prompted both excitement and scrutiny within the medical community. Though taking Byetta for weight loss is not considered an FDA approved use of the drug, medical studies funded by the manufacturer have shown that the medication may be an effective weight loss drug even for those with otherwise normal blood sugar levels. However for the time being, Eli Lilly/Amlyn does not promote this type of "off-label" use of Byetta.
Side effects of Januvia & Byetta
Like all prescription drugs, Januvia is linked to several side effects.
Minor side effects associated with Januvia include:
Upper respiratory infection
Sore throat
Stuffy or runny nose
Headache
Stomach upset
Diarrhea
Swelling of the hands or legs, especially when used in combination with metformin and rosiglitazone, two other diabetes drugs
Elevated liver enzymes
Merck also warns that more severe health problems can arise.
Serious Januvia side effects may include:
Kidney failure, sometimes requiring dialysis
Low blood sugar, especially when used with sulfonylurea or insulin; the symptoms of low blood sugar can include confusion, dizziness, drowsiness, fast heart beat, headache, hunger, irritability, a jittery sensation, sweating, and weakness
Severe allergic reaction
Pancreatitis, or inflammation of the pancreas; may be severe enough to cause death in up to 30% of reported cases
Patient reports, doctor observations, and medical research have suggested a link between Januvia and cancer. The two most common types of cancer linked to Januvia are pancreatic and thyroid cancer.
Byetta is most often often associated with complaints of nausea, upset stomach, vomiting and diarrhea.  It may also cause feelings of anxiousness, light-headedness, headache, and weakness.
Byetta and Januvia share reports of the most serious side effects:
Pancreatitis
Pancreatic cancer
Thyroid cancer
Studies link diabetes medications to thyroid and pancreatic cancer
Several studies point to serious complications from Januvia and Byetta.  In 2013 alone, three studies have called into question the drugs' safety. Researchers at Johns Hopkins analyzed 1,269 patients with type 2 diabetes and who had filled at least one diabetes drug prescription for three years. Of those who developed pancreatitis, 87 had been taking Januvia or Byetta; only 58 had been taking other diabetes medications. In other words, the Johns Hopkins results show that Januvia/Byetta may increase the risk of pancreatitis by 150% over other diabetes medications.
In April 2013, the Institute for Safe Medication Practices, a nonprofit organization, published an FDA data analysis of Januvia and other incretin therapies. Among other important findings, the analysis showed that physicians reported higher rates of pancreatic cancer, pancreatitis, and thyroid cancer in patients taking Januvia and similar drugs.
In early 2013, UCLA researcher Dr. Peter Butler published another study that questioned the safety of Januvia. Among his findings, Dr. Butler revealed that patients taking incretin therapies, including Januvia, and who had died from causes not related to the pancreas, were more likely to exhibit pre-cancerous abnormalities than patients who had not taken these therapies.
An earlier May 2009 a study linked Januvia to low-grade pancreatitis and an increased risk of pancreatic cancer in patients who took the drug long-term. At the time, experts warned that extreme caution should be taken when prescribing Januvia, since it was a relatively new drug and it could take years for long-term side effects to emerge. Two years later, a study published in Gastroenterology in July 2011 found that patients taking Januvia had dramatically increased risk of developing both pancreatitis and pancreatic cancer. Afterwards, the study was withdrawn by the editors of the journal based on complaints from drug manufacturers about the study's methodology. The researchers, however, stood by their results.
Why people file lawsuits
Since reports first emerged of serious complications from Januvia and Janumet, patients have taken their grievances to court. The most cited allegations include failure to warn of risks associated with a dangerous drug, and deceptive marketing practices. Plaintiffs also charge Merck with negligence regarding safety testing and subsequent warnings.  Plaintiffs have brought similar claims against Amylin and Eli Lilly after suffering similar side effects linked to Byetta.
Plaintiffs involved in litigation against the makers of both drugs seek damages for serious health consequences, including pancreatitis and cancer, and ask courts to compensate them for their insurmountable medical bills, lost wages, lifestyle changes, and other measurable financial effects of their injuries. They also demand compensatory damages for their pain and suffering, and in some cases, loss of consortium (companionship). Punitive damages may also be available based on the companies' alleged negligence, failure to warn, and other actions that disregarded public safety.