Benicar and Sprue-Like Enteropathy Linked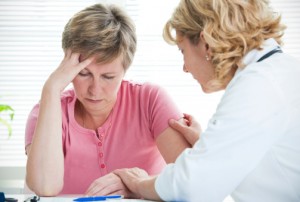 Benicar and sprue-like enteropathy have recently been linked, which has caused alarm for patients using the drug. Olmesartan ─ known as Benicar in the U.S. ─ is a prescription medication used to lower high blood pressure. A recent case study highlights the potential dangers of Benicar, as it has been associated with colon perforation.
The authors highlight the case of a 52-year-old woman who came to their hospital complaining of severe abdominal pain and nausea. As a result of her illness, she had lost 45 pounds throughout the course of a six month period. The woman had no symptoms of other infections, had not traveled recently, had not been exposed to anyone else with an illness, presented no changes in her diet and had not started taking any new medications during the past year.
Searching for the root of the problem
The patient had normal vital signs and during a physical exam, doctors discovered abdominal tenderness with guarding and signs of dehydration. The woman suffered a heart attack in the emergency room and was subsequently admitted into the intensive care unit.
A CT scan of her colon revealed heightening inflammation of the colon and evidence of perforation. No surgeries were performed and signs of improvement were noted during a subsequent CT scan.
Doctors began an extensive investigation to determine the cause of her chronic diarrhea. After ruling out celiac disease and attempting to relieve her symptoms with an opioid-receptor agonist, corticosteroids, azathioprine and antibiotic therapy, doctors began to examine her use of Benicar.
Benicar and sprue-like enteropathy
The woman had been on Benicar for three years. Doctors suspected enteropathy associated with the drug and discontinued her use of it, replacing it with Lisinopril. Within one month the patient was no longer experiencing abdominal discomfort and diarrhea. Five months later she was still experiencing no symptoms.
"Olmesartan associated enteropathy may be differentiated from celiac disease by the absence of tissue transglutaminase and endomysial and antienterocyte antibodies with absence of response to a gluten-free diet," note the research team.
This disorder may impact the entire gastrointestinal tract. In fact the underlying mechanisms of the disorder remain unknown. However, the research team suggests the cause may be linked to a cell-mediated immune response that damages the small intestinal brush border.
"ARBs have been suggested to have inhibitory effects on transforming growth factor, which is responsible for gut immune homeostasis and maintaining a normal balance between proinflammatory and anti-inflammatory factors," state the researchers. "HLA DQ2 and DQ8 testing were not performed in our patient due to her excellent clinical response after discontinuing olmesartan. Although HLA Q2/Q8 have good negative predictive value for celiac disease, they have poor positive predictive value for celiac disease and olmesartan associated enteropathy."
The research team notes that the complete healing of their patient's symptoms, with the absence of other associated diseases, suggests it is unlikely to be a mere chance that her sprue-like enteropathy was not a side effect of Benicar.
They believe their patient is the first to experience colon perforation. The team warns physicians to closely monitor patients taking angiotensin receptor blockers, as they may be at risk for developing sprue-like enteropathy.