Benicar Side Effects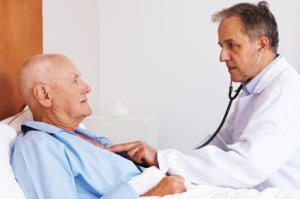 First achieving marketing approval from the U.S. Food and Drug Administration (FDA) in 2002, Benicar (olmesartan) is a popular angiotensin II receptor antagonist drug used to improve circulation, halt the narrowing of blood vessels and lower the blood pressure of patients who have received a diagnosis of hypertension.
Since its initial introduction, Benicar has attained broad acceptance among medical practitioners, with more than 10 million prescriptions being written in 2012 alone. However, growing numbers of patients are reporting serious Benicar side effects that include severe, chronic diarrhea, vomiting, extreme weight loss, malnutrition and dehydration, with many individuals currently contemplating legal action against the drug's manufacturer.
Gastrointestinal side effects caused by Benicar
Benicar side effects include gastrointestinal complaints such as:
Sprue-like enteropathy
Debilitating and chronic diarrhea
Dramatic weight loss
Vomiting
Dehydration
Malnutrition
In an alarming number of cases, patients who have suffered these types of side effects have required extended periods of hospitalization and lengthy recovery times. Further complicating matters is the fact that the sprue-like enteropathy now being linked to Benicar use has often been mistaken for Celiac disease, a condition characterized by very similar symptoms. Sadly, this tendency toward misdiagnosis has resulted in unnecessary delays in the ability of many patients to receive proper treatment. Permanent intestinal damage can take place during this time, substantially increasingly the likelihood of lasting digestive problems, malnourishment and even death.
Benicar has also been connected to the onset of less-serious side effects, including nausea and fatigue. While nowhere near as dire as the gastrointestinal symptoms listed above, thousands of patients have been adversely impacted as a result of taking what was marketed as a safe effective method of treating high blood pressure.
Research links Benicar and sprue-like enteropathy
The recent research receiving the most attention in terms of the suspected connection between Benicar and serious gastrointestinal side effects has been the study published by the Mayo Clinic in which 22 patients taking Benicar who also suffered Celiac-like symptoms were followed, tested and treated to determine the root of their problems. Celiac disease was eventually eliminated as a potential cause of their diarrhea and weight loss, and the patients demonstrated substantial improvement once they ceased taking Benicar. This was true even of the 14 patients in the group who had required hospitalization for extreme gastrointestinal distress.
In addition to the authors of Mayo Clinic study, researchers from the American College of Gastroenterology have lent support to the assertion that olmesartan medoxomil plays a role in the development of sprue-like enteropathy in patients using the drug to control hypertension. Citing 40 patient cases characterized by serious gastrointestinal symptoms, those responsible for the study connected the use of Benicar to the onset of enteropathy, though they did not undertake to explain why some patients are especially prone to these particular side effects.
FDA responds to mounting evidence of Benicar risks
Following the release of the Mayo Clinic study regarding Benicar use and sprue-like enteropathy, the FDA issued a drug safety communication recommending changes to Benicar's labeling that would better inform patients of risks posed by the drug. The agency also pledged to continue its own investigation of the link between Benicar use and serious gastrointestinal side effects, stating that new findings would be promptly disseminated to the public once made. The FDA further alerted the medical community to the possibility that patients taking Benicar could develop serious symptoms months or perhaps even years after they begin using the medication and that careful monitoring their progress was warranted.
The FDA asserted that the link between Benicar and severe gastrointestinal symptoms was quite strong, given that the side effects tended to resolve on their own once patients stopped taking the medication, and were likely to return if Benicar treatment was resumed. The agency also cautioned that even if patients suffering from Benicar-related enteropathy ceased their use of the medication, they could still suffer from lasting intestinal harm including villous atrophy resulting in permanent digestive difficulties, malnourishment and death.
Current status of Benicar litigation
Considering the substantial popularity Benicar has enjoyed as a hypertension treatment for well over a decade, it should come as no surprise that the number of patients now alleging serious injuries resulting from the medication is growing by the day. Dangerous drug attorneys nationwide have begun to review potential complaints against Daiichi Sankyo, Inc., the makers of Benicar, and an onslaught of litigation is predicted for the coming months and years.
Plaintiffs are expected to argue that Benicar was defectively manufactured and designed, promoted to physicians and patients as being much safer than it was known to be and that its manufacturer engaged in negligent and deceptive marketing practices.
In addition to helping hold drug manufacturers accountable for placing the public at unnecessary risk, product liability lawyers will seek substantial compensation for those harmed by Benicar's debilitating side effects, possibly obtaining financial recovery that includes:
Medical expenses
Rehabilitation and therapy services
Lost wages
Pain and suffering
Emotional distress
Though there has not yet been a sizable wave of Benicar lawsuits filed in the United States, notable litigation is presently pending in New Jersey state court,  as the American headquarters of Daiichi Sankyo are located there. Given the expansive pool of potential plaintiffs and the seriousness of the harm suffered by many who have taken Benicar to treat high blood pressure, experts are predicting that litigation pertaining to this drug will eventually encompass hundreds, if not thousands of cases.