California Man Sues Over Xarelto Bleeding Injuries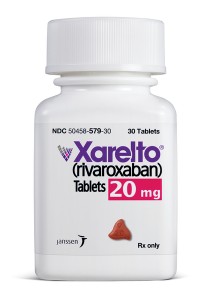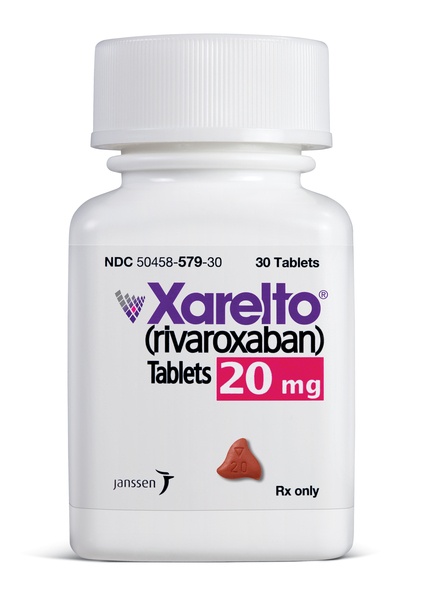 An eighty-seven year old California man who suffered life threatening Xarelto bleeding side effects has filed suit against Bayer Healthcare and Janssen Research and Development. The Xarelto injury lawsuit was filed in United States District Court, Northern District of California on October 9, 2014, and demands compensation for his severe and permanent personal injuries, pain, suffering, and emotional distress.
The claimant began using Xarelto on his doctor's advice in early 2012 and suffered a gastrointestinal bleed on October 15, 2012. His lawsuit claims his permanent injuries were directly caused by his use of Xarelto.
Xarelto in headlong race with Pradaxa for market share
Xarelto is one of a new class of blood anti-coagulants, along with Pradaxa and Eliquis, which purport to be a convenient low maintenance improvement over what the companies' marketing efforts claim to be the cumbersome regular monitoring and dosage adjustment required by the long-time market leader Coumadin (warfarin).
Xarelto and Pradaxa are currently locked in a high stakes battle for market dominance in the multibillion dollar anticoagulant market. However, unlike warfarin, neither Xarelto nor Pradaxa, developed by Boehringer Ingelheim, have an antidote or reversal agent which can control an internal bleed once it has started, whether in brain bleeds or gastrointestinal bleeding, where there have been a growing incidence of deadly incidents.
Xarelto bleeding side effects
The safety of Xarelto, co-developed by Bayer and Janssen Pharmaceuticals, a subsidiary of Johnson & Johnson, was the subject of a recent Phase III study in which 73% of 16,000 participants experienced Xarelto side effects such as anemia or bleeding. In a clinical trial involving 14,000 patients, the rate of clinically excessive bleeding was very high—15 percent—making Xarelto the riskiest outpatient drug treatment on the market.
German media also reported that in the first eight months of 2013, Bayer confirmed 968 incidents of Xarelto bleeding side effects including 72 deaths up from 750 reports of adverse reactions and 58 deaths in 2012. Ironically, the highest numbers of reported injuries were pulmonary embolisms, which Xarelto was designed to prevent.
A Pennsylvania study reported in September focused on whether any reversal method could be effective in the case of an anti-coagulant bleed with either Xarelto or Pradaxa. It found that although Pradaxa bleeding could not be stopped, it could be slowed with activated charcoal if administered in a timely fashion. However, "Xarelto bleeding side effects were less responsive to the active charcoal treatment".
List of grievances in Xarelto injury lawsuit
The plaintiff demands compensation of $10,000,000 in his Xarelto lawsuit.
The causes of action are:
Negligence in failing to exercise due care in designing and manufacturing Xarelto
Strict product liability for designing and manufacturing a flawed and dangerous product
Breach of express warranty by representing that Xarelto was safe and fit for use
Breach of implied warranties by implying that Xarelto was fit for use
Fraudulent and false misrepresentation to the public that Xarelto is safe
Fraudulent concealment of the risks of serious adverse events
Making false representations as to testing for the safety and effectiveness of Xarelto
Employing fraud and deceit in the omission of certain testing results
Loss of consortium for the plaintiff's wife
Xarelto bleeding litigation escalates
Almost one million Xarelto prescriptions are being written each quarter, a 240% increase in Xarelto prescriptions over the last year. America's Institute for Safe Medicine Practices (ISMP) says, "Anticoagulant drugs are a high-risk treatment and cause bleeding in approximately 15% of patients with atrial fibrillation exposed for a year".