Tennessee Woman Files da Vinci Robot Lawsuit Over Botched Procedure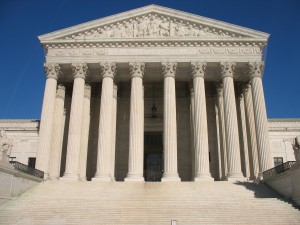 Intuitive Surgical, Inc., a pioneer in the use of robotic surgery, was hit in May 2014 with a robotic surgery lawsuit by a Tennessee woman. The lawsuit, filed on May 8, 2014 in United States District Court, Northern District of California, pits the plaintiff, a resident of Gibson County, Tennessee against the multi-billion dollar manufacturer of the da Vinci Surgical System, Intuitive Surgical, Inc. based in Sunnyvale, CA.
Catastrophic harm claimed in da Vinci robot lawsuit
The plaintiff claims that as a result of a flawed robotic surgical procedure in 2011 done by an untrained surgeon, she is in severe pain and continues to suffer from disastrous injuries incurred during her da Vinci surgery including an anastomotic leak and a rectovaginal fistula, both of which required a second surgical procedure to correct.
Alleged injuries from the da Vinci robot which employ the use of miniature surgical tools robotically controlled by a surgeon include lacerated or perforated organs, damaged muscles, torn blood vessels, severe bowel injuries, among other serious injuries. There have been 70 reported deaths from robotic surgery complications since 2009, according to Bloomberg News.
Plaintiff alleges aggressive sales tactics & insufficient training
The plaintiff alleges that da Vinci had full knowledge of the risks of serious injuries with robotic surgery but failed to warn the medical community and patients about the inherent danger of the procedure. She also alleges that Intuitive, to induce surgeons to use the da Vinci system for their patients, used intimidation and fear mongering to convince surgeons that they would no longer be competitive and would lose business to other surgeons if they did not use the da Vinci Surgical System.
The FDA cleared the da Vinci Surgical System for sale in 2000 under the "premarket notification" process which does not require rigorous trials or safety procedures. According to the NY Times, as a condition of the FDA clearance, the agency did however mandate extensive training for the surgeons who would employ the system. Intuitive laid out a "70-item exam and a three-day hands on training protocol" for the FDA to review. By 2002, the 70-item exam had been replaced by a 10 question online quiz and one day of training. As a result, the surgeons employing the new technology were not sufficiently trained to conduct the robotic procedures safely.
E-mails reveal the relentless drive for more sales
A 2013 study done by Columbia University on 265,000 women who had hysterectomies between 2007 and 2010 found that despite Intuitive's claim that robotic surgery was safer and more effective than non-robotic surgeries, the complication rates for both were found to be equal. In fact, the robotic surgery, despite having no better result, cost one third more than conventional surgery and took on average 77 minutes longer to perform, creating a prolonged anesthesia risk.
Despite those findings, according to a 2010 NY Times article, "a clinical sales director for Intuitive wrote to his team: 'Be proactive in finding cases to convert. Be prepared to challenge each trained surgeon every time you see a lap (laparoscopy) or an open case. Be unsatisfied with the thought of ending the day without a converted case (to robotic surgery)'."
As of 2013, 1,370 U.S. hospitals had purchased the da Vinci surgical system at a cost of $2.2 million each. Over 1.5 million robotic surgery procedures have been performed worldwide.
Robotic surgery lawsuit claims malicious, reckless behavior
The plaintiff in the robotic surgery lawsuit alleges that the defendant designed and sold a defective product, failed to warn doctors and the public about its risks, failed to train surgeons in its proper use, and displayed willful, wanton, reckless, and malicious disregard for patients subjected to the da Vinci system.
The plaintiff seeks past and future general damages, medical and incidental expenses, compensation for loss of earnings, and past and future mental and emotional distress.