Illinois Couple Files Benicar Lawsuit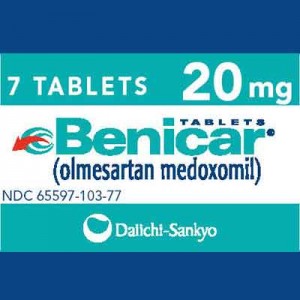 A Pawnee, Illinois couple has filed a Benicar diarrhea lawsuit, after the female plaintiff became severely ill as result of ingesting the blood pressure medication. Deborah Dirksen and her husband, Richard, allege the drug makers knew or should have known about the risk of enteropathy faced by patients taking Benicar, but failed to share this information with the public.
In her claim, Deborah Dirksen asserts that she was hospitalized repeatedly due to severe Benicar side effects including severe diarrhea and dehydration. Her symptoms disappeared when she stopped taking the drug, but returned again after she resumed usage.
Following her release from the hospital, the couple alleges that Deborah was rushed to the emergency room by ambulance and was forced to undergo countless treatments and doctor visits before she stopped using the drug, which ultimately is the only measure that cured her symptoms.
Benicar diarrhea lawsuit details
While Deborah no longer suffers from severe diarrhea and dehydration, the claim notes that she has be left with permanent intestinal damage and a variety of other complications caused by these conditions.
The Dirksen's accuse the defendants of engaging in false and misleading advertising regarding Benicar side effects, which left out or minimized information on the risks associated with the medication.
"On information and belief Daiichi Sankyo and Forest distributed marketing materials to physicians and other consumers claiming that its olmesartan products were superior, more effective and safer than other antihypertensive drug products available," states the claim.
"In 2006, the FDA found Daiichi Sankyo and Forest's efficacy and safety claims unsubstantiated and false or misleading. According to the FDA and contrary to Daiicho Sankyo's marketing claims, there was no evidence that Benicar was superior to, safer than or more effective than other ARBs."
The couple is suing the drug makers on the following 13 counts:
Gross negligence
Products liability ─ defective design
Negligence
Products liability ─ failure to warn
Fraudulent concealment
Negligence per se
Unjust enrichment
Violation of Illinois' Consumer Fraud and Deceptive Trade Practices Acts
Negligent misrepresentation
Breach of Implied Warranties
Constructive fraud
Breach of Express Warranties
Loss of Consortium
Benicar linked to sprue-like enteropathy
Benicar, also known as olmesartan medoxomil, received FDA approval on April 25, 2002 as an angiotensin II receptor blocker. The drug is used to treat hypertension. Millions of patients have been prescribed the drug. In fact, approximately 10.6 million Benicar prescriptions were dispensed and roughly 1.9 million patients received a dispensed prescription for products containing olmesartan in outpatient retail pharmacies during 2012 alone.
The FDA issued a safety announcement in July 2013, warning that Benicar can cause intestinal problems known as sprue-like enteropathy. The FDA approved label changes to Benicar informing patients of this potential side effect.
Sprue-like enteropathy symptoms consist of severe, chronic diarrhea with significant weight loss. This condition may develop months or even years after patients begin taking Benicar and may require hospitalization.
While Benicar is just one of eight ARB drugs on the market, sprue-like enteropathy has not been reported as a potential side effect of any of the other drugs.