New Research Highlights Benicar Abdominal Pain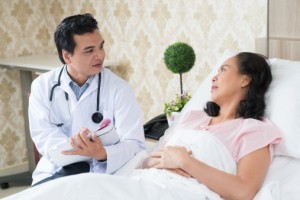 New research suggests that Benicar abdominal pain may be strictly related to the drug ─ not a side effect present in all angiotensin receptor blockers. Many patients have suffered serious Benicar side effects, including sprue-like enteropathy, which can cause chronic diarrhea and severe abdominal pain.
In October 2014, the Journal of Clinical Pathology published a study examining reports of severe and potentially life-threatening diarrhea and abdominal pain experienced by Benicar users, compared with patients taking non-olmesartan ARBs.
The Columbia University research team evaluated approximately 40 patients taking ARBs, who were undergoing upper gastrointestinal endoscopy, as a result of severe abdominal pain. Roughly 20 patients were using Benicar and 20 were using non-olmesartan drugs.
The findings revealed that half the patients taking Benicar and other non-olmesartan drugs suffered from abdominal pain or other symptoms of sprue-like enteropathy. However, only one-fifth of patients taking other ARBs experienced these issues.
Researchers concluded that the symptoms linked to sprue-like enteropathy were only caused by olmesartan drugs. Patients using other ARB medications experienced the same risk of developing sprue-like enteropathy as those not taking any of the drugs who suffered from abdominal pain.
The research team determined there is no statistically significant difference between patients suffering from abdominal pain using Benicar and controls for any other abnormality. It is important to note that trends toward significance were highlighted for individual abnormalities and composite outcomes, which "raises the possibility that there is a spectrum of historical changes associated with olmesartan use."
Benicar abdominal pain
The blood pressure medication has been linked to a number of symptoms present in sprue-like enteropathy for the past two years. In addition to prolonged diarrhea and serious abdominal pain, many patients experience a variety of other symptoms, including weight loss.
Benicar received FDA approval on April 5, 2002 ─ more than 12 years ago. However, the first published report highlighting potentially harmful abdominal risks caused by the drug was not released until August 2012 ─ more than ten years after it hit the market. The FDA didn't release its first warning on the risk of developing sprue-like enteropathy until July 2013.
Patients have reported abdominal issues with all drugs containing the active ingredient olmesartan, including Benicar HCT, Azor and Tribenzor ─ all manufactured by Daiichi Sankyo. It was unknown whether other ARBs, including Teveten, Cozaar, Atacand, Avapro, Diovan and Micardis, also caused the same symptoms.
More reports link Benicar to sprue-like enteropathy
A group of independent researchers from the Mayo Clinic released a study in July 2012, highlighting at least 22 patients who received treatment for symptoms consistent with celiac disease while taking Benicar.
The celiac disease treatments were not effective, but researchers noted that symptoms of chronic diarrhea and abdominal pain ceased when the patients stopped taking Benicar. This was the first published report suggesting that Benicar may cause patients to suffer from abdominal issues similar to those consistent with celiac disease.
In July 2013, the FDA issued a Benicar warning, advising members of the medical community of the apparent link between abdominal pain and the medication. The agency warned that symptoms of sprue-like enteropathy may begin months or years after a patient starts using the blood pressure medication.