Study on Talcum Powder and Mesothelioma Link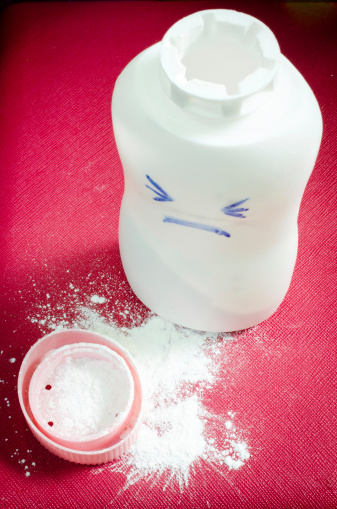 Several studies have already established that talc-based products can cause an increased risk of ovarian cancer in women, when the powders are used for feminine hygiene purposes. But new research suggests an even more sinister side effect of talcum powder – mesothelioma. This rare type of lung cancer, which is almost always associated with prolonged asbestos exposure – may have already claimed the life of at least one woman who used talcum powder, say study authors.
According to the study, which was published this October in the International Journal of Occupational and Environmental Health, popular brands of talcum powder may actually release inhalable asbestos fibers, putting consumers at risk for baby powder-related mesothelioma.
Research on baby powder mesothelioma
Talcum powder products, such as Johnson & Johnson's Baby Powder and Shower to Shower have been used for cosmetic purposes for decades. Since 1972, consumers and health officials have been questioning the inherent dangers of talc, which is known to be a killer when it contains asbestos.
In this recent study, the goal of the researchers was to investigate one notable brand of talcum powder linked to mesothelioma in women. Utilizing a transmission electron microscope, the researchers simulated bathroom exposures to better detect asbestos fiber releases from the product.
Talc exposure has already been associated with the development of ovarian cancer and gynecological tumors, and the researchers found that "this brand of talcum powder contained asbestos and the application of talcum powder released inhalable asbestos fibers… lung and lymph node tissues removed at autopsy revealed pleural mesothelioma."
"The deceased inhaled asbestos fibers, which then accumulated in her lungs and likely caused or contributed to her mesothelioma as well as other women with the same scenario, " concluded the study's authors.
Mesothelioma can remain dormant for decades, and is frequently not diagnosed until the lung cancer is at a very advanced stage. Once diagnosed, most patients have a short life expectancy.
Continued worry about talcum powder cancer risks
The International Agency for Research on Cancer, which functions under the World Health Organization, has labeled talc-based products a "possible carcinogen" when used for feminine hygiene purposes. These sentiments are shared by the American Cancer Society, an organization that has recommended women consider alternative powder products for genital use, in light of mounting evidence of talcum powder cancer risks.
Females who use products containing talc in the genital area may have a 20 to 30 percent greater risk of developing cancer of the ovaries, according to Cancer Prevention Research. Such findings and post-market reports have triggered a wave of product liability litigation against J&J, which has been accused of concealing its knowledge of cancer risks for decades.
More than a dozen talc cancer lawsuits are already pending in courts, and J&J also faces a class action suit, brought just last April. The claimants argue that the company failed to adequately warn consumers about adverse health outcomes with genital use of Baby Powder, as the product's sole warning was only in regard to inhalation by children.
In 2013, jurors in South Dakota found that J&J failed to warn about talc cancer risks, in a case brought by 56-year old Deane Berg who was a life-long user of Shower to Shower and was later diagnosed with ovarian cancer.
Talc product liability lawyers are currently reviewing cases of women who have developed cancer to determine whether they qualify to file a lawsuit.