Research Explores Alternative POP Treatment Outcomes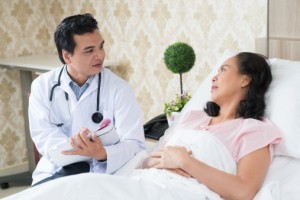 Recent years have witnessed a significant increase in awareness of pelvic organ prolapse (POP) and related conditions such as stress urinary incontinence (SUI). This development is due in large part to an onslaught of litigation regarding transvaginal mesh as a treatment for POP and the debilitating complications associated with the devices.
However, according to a new study recently published in the British Medical Journal, alternative treatments for POP and SUI may be sufficiently effective to prevent countless women from ever experiencing transvaginal mesh complications of which thousands have complained.
Basics of POP and urinary incontinence
Typically impacting female patients who have given birth to multiple children, are post-menopausal or who have previously undergone a hysterectomy procedure, POP is characterized by the dropping down of pelvic organs such as the bladder, uterus, rectum and small bowel. This lowering can eventually cause the organs to move downward into the anus or vaginal canal, causing substantial problems including SUI.
SUI is essentially an involuntary leakage of urine that occurs during physical exertion or abdominal pressure. Estimates suggest that roughly one out of every three women will experience this condition at some point in their lives. Different types of treatments have been utilized to address the problem of SUI caused by POP, with the implantation of transvaginal mesh being among the most common. However, concern has grown in recent years about the safety of such devices, especially in light of the thousands of adverse event reports submitted to federal regulators detailing devastating side effects and injuries. Those incident reports have given rise to a massive amount of product liability litigation, with well over 60,000 lawsuits currently pending.
Study suggests promise of alternative POP treatments
The aforementioned research study involved female subjects age 55 and older suffering from mild, yet still symptomatic POP. The purpose of the investigation was to compare the impact of a regimen of pelvic floor muscle training as opposed to a strategy of watchful waiting. After 90 days, researchers assessed patient changes in bladder, bowel and pelvic symptoms as well as examining any effect on sexual function, quality of life and other generalized criteria.
In the end, 57 percent of the women who engaged in pelvic floor muscle training reported an improvement in their POP symptoms, as opposed to only 13 percent of those watchfully waiting. These promising initial results have led the authors of the study to call for further trials in order to assess the long-term outcomes achievable with pelvic floor training alone as a treatment protocol.
Potential hope for preventing transvaginal mesh complications
This research offers real hope that the dangers of pelvic mesh encountered by so many may be largely avoided in the future. It may be possible in the future for a substantial number of POP patients to embark on a pelvic floor muscle training plan rather than incurring the risk of such devastating transvaginal mesh complications as mesh erosion, recurrent infection, bladder perforation, scarring and sexual dysfunction.
Meanwhile, the litigation involving mesh manufacturers such as Boston Scientific, Ethicon, C.R. Bard and AMS has continued to wind its way through courts nationwide, with some device makers opting to reach sizable settlements with plaintiffs and others refusing to abandon the fight.