Pelvic Organ Prolapse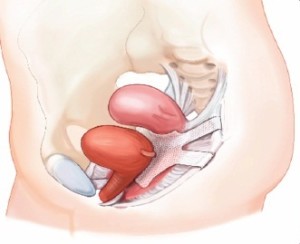 When women experience a weakening or loosening of the pelvic muscles, one or more organs in the pelvic region can become displaced and even collapse into the vaginal or rectal cavities. This condition is referred to as pelvic organ prolapse, or POP for short. "Prolapse" means to fall out of place. In past years, POP was not commonly diagnosed or treated, though more recently it has become recognized as a primary concern for women's healthcare practitioners. Mild cases of pelvic organ prolapse may not present symptoms, but more serious instances can cause significant pain, pressure on the abdomen, and the feeling that organs are spilling out of the vagina or rectum. In these extreme iterations of the condition, surgery may be required. Traditional surgery to treat POP involved suturing the patient's natural pelvic muscles and ligaments; though since the year 2000 the use of synthetic transvaginal mesh implants has become more popular.
Though over 100 different models of vaginal mesh are available on the U.S. market, the Food and Drug Administration (FDA) has expressed doubt as to whether using mesh implants is any more effective than traditional methods for treating POP. The FDA has also issued a public safety communication regarding serious transvaginal mesh complications, such as infection, inflammation, and erosion of the device inside the body.
Though the bladder is the most common organ to prolapse, any of the following organs may do so:
Bladder
Urethra
Uterus / uterine tissue
Cervix
Vagina
Small bowel
Rectum
It is estimated that by the age of 80, 10% of women in the U.S. will have received some form of treatment for pelvic organ prolapse.
Symptoms of pelvic organ prolapse include:
Pelvic pain or discomfort
Protrusion of organs or tissue toward or through the vaginal opening
Urinary incontinence (urine leakage)
Difficult and/or painful sex
Feeling of fullness in the lower belly
Stretching sensation on the groin
Lower back pain
Women who experience any of these symptoms are advised to contact a physician or healthcare provider as soon as possible to evaluate their condition.
Causes of POP
Multiple vaginal births are the most common cause of pelvic organ prolapse. Childbirth can naturally stretch and fray the support-bearing structures in the pelvis, including the vaginal muscles. Having a hysterectomy – the surgical removal of the uterus – also increases the risk of developing POP.
Additional risk factors for pelvic organ prolapse include:
Obesity
Menopause
Pelvic floor surgery
Genetic predisposition
Tumors in pelvic organs
Connective tissue disorders
Persistent cough
Chronic constipation
Forms of pelvic organ prolapse
Different kinds of prolapse are linked with different areas of weakness in the pelvic region.
Uterine prolapse: The uterus protrudes into the vagina. A similar condition to vaginal vault prolapse, found most frequently in women after having a hysterectomy, in which the top portion of the vagina descends to meet the lower portion of the vagina.
Cystocele and urethrocele: Cystocele indicates protrusion of the bladder into the front wall of the vagina. Urethrocele is a similar protrusion of the urethra into the vagina.
Rectocele: The rectum presses into the vagina's back wall, in extreme cases impeding defecation.
Treatment with vaginal mesh
A surgical mesh implant is a "netting" device typically made of synthetic material. When used to treat pelvic organ prolapse, it is implanted in and/or across the vagina to strengthen the weakened vaginal wall, or to reinforce the urethra. Most urogynecologic procedures utilize polyester or polypropylene mesh. Though pelvic mesh repair was intended to be a more effective treatment for POP than traditional means, women who have undergone the surgery have reported transvaginal mesh complications such as:
Perforation of organs
Vaginal scarring
Infection
Excessive vaginal bleeding
POP recurrence
Multiple revision surgeries to remove the failed mesh
Mesh devices are manufactured by many major pharmaceutical companies, including Johnson & Johnson, American Medical Systems (AMS), Boston Scientific, Coloplast, and C.R. Bard. All of these manufacturers currently face vaginal mesh lawsuits from women who claim that they were not adequately warned about the dangers of having mesh devices implanted in them.
Other treatments for POP
Mild cases of pelvic organ prolapse are often allowed to go untreated. In such cases, losing weight, avoiding strenuous activity, and quitting smoking may all help to diminish the symptoms of POP, or keep the condition from escalating in seriousness.
Lower estrogen levels resulting from menopause may be responsible for the weakening of pelvic muscles, so estrogen therapy may be prescribed. Physical therapy may also be used to strengthen targeted muscles in the pelvis and vagina. Kegel exercises, sometimes aided by "biofeedback" monitoring devices, involve a series of contractions repeated throughout the day, with a steady increase in intensity and duration.
For women experiencing serious pain, discomfort, and incapacitation due to pelvic organ prolapse, surgery will likely be recommended. Pelvic reconstruction surgery places the prolapsed organs back in their proper position, and then adheres them to the surrounding pelvic tissue and ligaments with stitches. Grafts may be used to repair torn or damaged sections of the vagina. The surgery may be performed laproscopically, with a small camera inserted through tiny incisions in the abdomen.
Possible complications of pelvic reconstruction surgery include:
Women for whom surgery might be risky, or who prefer not to have surgery, may be treated with a pessary, a removable device similar to a diaphragm that is inserted into the vaginal canal. In less extreme cases of POP, the pessary may be successful in helping to support the vaginal walls.
FDA cautions mesh problems "not rare"
In October of 2008 the FDA issued a Public Health Notification and Additional Patient Information regarding serious transvaginal mesh complications, with the agency stating it had received over 1,000 adverse event reports about mesh devices from 2005 to 2007. After further investigation of nearly 3,000 additional reports from patients about surgical mesh side effects, the FDA updated the safety alert in July 2011 to report that, "serious complications associated with surgical mesh for transvaginal repair of POP are not rare. Furthermore, it is not clear that transvaginal pelvic organ prolapse repair with mesh is more effective than traditional non-mesh repair in all patients with POP and it may expose patients to greater risk."
The FDA advises healthcare providers that, "in most cases, POP can be treated successfully without mesh, thus avoiding the risk of mesh-related complications."
Though the agency "continues to evaluate the effects of using surgical mesh," it has not banned the use of such products, and has not issued a transvaginal mesh recall for any of the devices.