Takeda Reaches $2.4 Billion Actos Settlement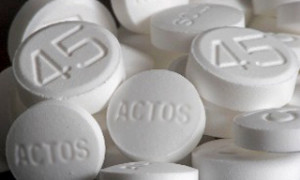 Takeda Pharmaceuticals has agreed to a $2.4 billion Actos settlement that would largely resolve thousands of claims regarding the drug's risk of bladder cancer. The company said that the settlement would go into effect if at least 95% of current plaintiffs accept it; in this case, the total payment would be $2.37 billion. The amount would rise to $2.4 billion if the settlement is accepted by 97% or more of current plaintiffs.
Takeda said that the settlement and related costs would be covered by a $2.7 billion charge against earnings. The company does not admit to liability and stated that they had reached the settlement to "reduce the uncertainties of complex litigation." Takeda continues to stand by the effectiveness of the diabetes drug.
The settlement represents one of the largest examples reached in connection to product liability suits in the pharmaceutical industry and may be the largest settlement involving a drug that is still on the market. (Larger settlements include $20 billion to settle Wyeth's fen-phen diet pill lawsuits and Merck's $4.85 billion Vioxx heart risk lawsuits.)
Actos settlement preceded by $9 billion jury verdict
The settlement was reached in the wake of last year's substantial jury verdict awarded to a plaintiff whose counsel contended that Takeda had hidden risks of bladder cancer associated with Actos. The $9 billion jury verdict consisted of punitive as well as compensatory monies, but was later reduced to $36.8 million by the presiding judge. The lawsuit served as a "bellwether" case in a large scale multidistrict litigation (MDL) taking place in Louisiana, designed to encourage just such a large scale settlement as has recently been reached.
The case was the only Actos lawsuit tried in federal court thus far. However eight other lawsuits in state courts had various results: juries ruled in favor of Takeda in three cases and for the plaintiffs in the remaining five cases. However, judges overturned those rulings in two of the latter five cases to find in favor of Takeda.
Settlement will resolve multiple claims
There are currently approximately 9,000 Actos lawsuits pending against the Japanese company, many included in the Louisiana MDL. The drug was introduced into the market in 1999 with the cooperation of U.S. pharmaceutical company Eli Lilly. Sales of Actos, which was a substantial money-maker for Takeda, may have received a boost when the reputation of a rival Type 2 diabetes drug Avandia was tarnished by concerns of increased heart attack risks.
In 2011, the Food and Drug Administration mandated the addition of a warning label concerning the risk of bladder cancer which specified that using the drug for two or more years increased by risk by 40%. However, in the federal case involving the $9 billion victory, the judge and jury found credible evidence presented by the plaintiff's attorneys that Takeda knew of this cancer risk as early as 2002 and did little to caution the medical community or patients. During the course of that trial, the judge also ruled that the company had destroyed documents, acting "in bad faith."